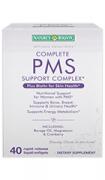 Article By: Maria Smith
A woman's menstrual cycle is one of those grin-and-bear-it things that women have been putting up with since the beginning of time. Every 28 days or so, many women have to deal with premenstrual syndrome (PMS), which can cause unpleasant physical and emotional changes.
An astounding number of women may experience PMS each month. In fact, an estimated three out of every four menstruating women will have some form of PMS.2 PMS typically peaks in a woman's late 20s and early 30s and generally follows a predictable pattern -- starting, peaking and ending at the same point in each cycle.
However, the physical and emotional changes of PMS can differ from month to month. Some months they may be very intense and almost unbearable. Other months, these problems may not even be noticeable.
PMS is caused by a variety of issues. Lifestyle changes may be beneficial for the unpleasant changes of PMS each month. Nature's Bounty® has a vitamin supplement that is specifically designed to support women with PMS.*
Their Complete PMS Support Complex provides nutritional support for women dealing with PMS.* It includes Magnesium, a mineral involved in muscle contractions, Vitamin D for bone health, Vitamin C for a healthy immune system, and Cranberry to promote healthy urinary function.*
Taking a vitamin can help keep women healthy when dealing with PMS*. It is true that living with PMS is one of the least enjoyable parts of being a woman, but it certainly doesn't have to control your life.
*These statements have not been evaluated by the Food and Drug Administration. These products are not intended to diagnose, treat, cure or prevent any disease.
Reviewed on January 18, 2013,
by Maryann Gromisch, RN
Edited by Jody Smith
Sources:
1) Naturesbounty.com. Web. 17 January 2013. "Optimal Solutions". http://www.naturesbounty.com/optimalsolutions/050872
2) Mayoclinic.com. Web. 17 January 2013. "Premenstrual Syndrome". http://www.mayoclinic.com/health/premenstrual-syndrome/DS00134