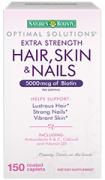 Article By: Jody Smith
Health and beauty are attributes we all value. We all want hair that has bounce and shine. We'd all love to have skin that's clear and radiant. And we know that to have beautiful hands, our nails must be strong and healthy.
We have always looked for the best ways to enhance our looks and take care of our health. We may feel like we've come a long way from the days when a woman might pinch her cheeks to heighten their color, but the basic drive remains the same to this day.
Nature's Bounty® knows and understands this desire to attain the best in terms of both health and beauty. And Nature's Bounty® has responded to these desires with a product that can support the health and beauty of your hair, skin and nails.*
Want healthy hair? Try Nature's Bounty® Optimal Solutions® Hair, Skin and Nails formula for strong, lustrous hair. Love nice-looking skin? Let the formula bring out your complexion's natural radiance and vibrancy. Embarrassed by your nails? Take the formula for strong, healthy nails.*
Nature's Bounty® Optimal Solutions® Hair, Skin and Nails formula comes in coated caplets containing 5,000 mcg of Biotin. Biotin is also known as vitamin B7 and vitamin H, and is part of the vitamin B complex which can promote healthy hair, skin and nails.*
Nature's Bounty® has served people who are interested in being their healthy best for decades. Its supplements are created to meet the highest standards of quality. Each product is carefully and thoroughly tested and evaluated for purity, potency and safety.
Optimal Solutions® products are available at many different retail stores in the United States. To find the store nearest you, use our store locator tool at http://www.naturesbounty.com/storelocator/
*These statements have not been evaluated by the Food and Drug Administration. These products are not intended to diagnose, treat, cure or prevent any disease.

Reviewed on January 15, 2013
by Maryann Gromisch, RN
Sources:
1) Nature's Bounty® Optimal Solutions®
http://www.naturesbounty.com/optimalsolutions
2) Our Company
http://www.naturesbounty.com/pages/our_company.aspx
3) Biotin
http://www.nlm.nih.gov/medlineplus/druginfo/natural/313.html