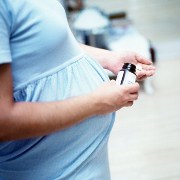 Photo: Getty Images
Nonsteroidal anti-inflammatory drugs (NSAIDs) are a class of drugs that include naproxen, ibuprofen, diclofenac, and celecoxib, and are one of the most common medications used during pregnancy. But recent research of nearly 5,000 women ages 15 to 45 show an increased risk of miscarriage if consumed during early pregnancy.
In a study published in the Canadian Medical Association Journal, researchers from the University of Montreal found the risk of miscarriage is 2.4 times greater for women who took any type and dosage of nonaspirin NSAIDs.
Dr. Joseph I. Fernandez, division director of obstetrics and gynecology at Scott and White Healthcare in Round Rock, Texas said that physicians already shy away from using NSAIDs in later stages of pregnancy because they can interfere with healthy development of fetal circulation.
And now, Dr. Anick Bérard, senior author of the paper, and Bérard's colleagues are studying a different time of pregnancy: the first 20 weeks.
Dr. Bérard is from the University of Montreal and is the Director of the Research Unit on Medications and Pregnancy at CHU Ste-Justine.
The study incorporated data on almost 5,000 women in Quebec who had miscarried and compared these women with 50,000 women who had not miscarried.
The study was not a randomized, controlled trial, which is considered the most sound research method, but Bérard thinks the results are due to the medication and not some other, unrelated factor.
"The use of nonaspirin NSAIDs during early pregnancy is associated with statistically significant risk (2.4-fold increase) of having a spontaneous abortion," Bérard wrote. "We consistently saw that the risk of having a spontaneous abortion was associated with gestational use of diclofenac, naproxen, celecoxib, ibuprofen and rofecoxib alone or in combination, suggesting a class effect."
The team of researchers also looked at affects of individual drugs and combinations of drugs. They found the highest risk of miscarriage was associated with diclofenac, alone, and the lowest risk for miscarriage was in users of rofecoxib, alone. Exposure to nonaspirin NSAIDs was defined as having filled at least one prescription for any type of the drug during the first 20 weeks of pregnancy or in the two weeks prior to the start of the pregnancy.
The researchers' findings are consistent with other studies but the team says they are novel with regards to the nonaspirin NSAIDs types and dosages. The researchers cannot be certain as to exactly how NSAIDs might induce miscarriage, but the authors theorized that they may interfere with levels of hormones called prostaglandins, which are involved in inducing labor.
"Given that the use of nonaspirin NSAIDs during early pregnancy has been shown to increase the risk of major congenital malformations and that our results suggest a class effect on the risk of clinically detected spontaneous abortion, nonaspirin NSAIDs should be used with caution during pregnancy," the authors conclude.
Sources:
NSAIDS May Raise Miscarriage Risk. HealthDay. Web. 6 Sept. 2011. http://consumer.healthday.com/Article.asp?AID=656625
Anti-inflammatory drugs taken in early pregnancy more than double the risk of miscarriage. EurekAlert. Web. 6 Sept 2011. http://www.eurekalert.org/pub_releases/2011-09/cmaj-adt083111.php
Bailey Mosier is a freelance journalist living in Orlando, Florida. She received a Masters of Journalism from Arizona State University, played D-I golf, has been editor of a Scottsdale-based golf magazine and currently contributes to GolfChannel.com. She aims to live an active, healthy lifestyle full of sunshine and smiles.
Reviewed September 7, 2011
by Michele Blacksberg R.N.
Edited by Jody Smith
Tags: