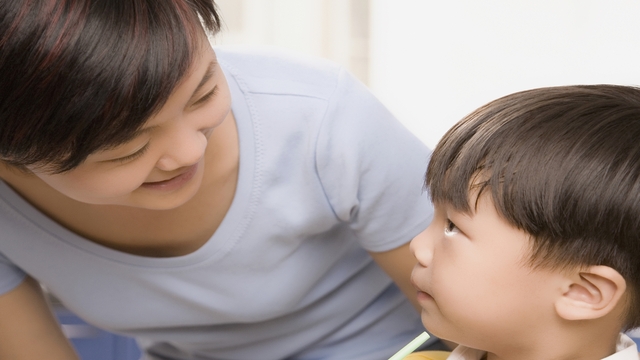 PS Productions/PhotoSpin
The one thing all parents do is compare children. They check other kids out at the park to see if other two-year-olds are climbing the slide like their two-year-old. They get anxious when they see an 11-month-old walking when their 14-month-old can't even stand.
They secretly high-five themselves when their 4-year-old can read the menu and another mom's kindergartener is just pointing at the pictures. But the truth is, all children develop skills at their own pace and comparing one child to another, even siblings, is a fool's errand.
This is especially true for children with speech delays. The basic definition of speech delay in a child is that a child does not meet the communication milestones within a few weeks of the average.
Being aware of these milestones and talking with the child's doctor if he or she doesn't meet them is key to making sure speech delays don't affect the child in the future. Simply recognizing that there may be an issue and treating the problem early is important for developing cognitive and language skills down the line.
Speech delays can be caused by a variety of factors including hearing loss due to severe ear infections, exposure to more than one language, learning disabilities and autism spectrum disorder.
Babies born prematurely may also experience speech delays. Most children born prematurely will be caught up, though, by the time they are two years old. The communication milestones for the first two years according to BabyCenter.com are as follows:
By 12 months a child should be able to:
- Say "mama" or "dada"
- Use gestures like as waving, shaking her head, or pointing
- Use at least a couple of consonants (like p or b, for example)
- Understand and respond to words such as "no" and "bye-bye"
- Point out things of interest such as a bird or airplane overhead
- Begin to say single words
Between 12 and 15 months a child should be able to:
- Babble as if talking
By 18 months a child should be able to:
- Point to at least one body part when asked
- Communicate in someway when she needs help with something or points to what she wants
- Say at least 6 single words
Between 19 and 24 months a child should be able to:
- Have a rapidly growing vocabulary, learning about one new word each week
By 24 months a child should be able to:
- Respond to simple directions
- Play pretend with her dolls or herself (like brushing the doll's hair)
- Imitate the actions or words of those around them
- Point to named pictures in a book
- Join two words together
- Understand the function of common household objects (like a toothbrush or fork)
If a child is exhibiting signs of some form of speech delay, it doesn't mean they will be doomed to be behind forever. Getting help from professionals like pediatricians, speech pathologists and teachers can help a child get back on track. And parents can go back to being less anxious when comparing their child to others.
Sources:
Babycenter.com. Web. 28 August 2013. "Warning signs of toddler's speech delays".
http://www.babycenter.com/0_warning-signs-of-a-toddlers-language-delay_12293.bc
WebMD.com. Web. 28 August 2013. "Developmental delays from birth to age 2".
http://www.webmd.com/parenting/baby/recognizing-developmental-delays-birth-age-2
Reviewed August 29, 2013
by Michele Blacksberg RN
Edited by Jody Smith
Tags: