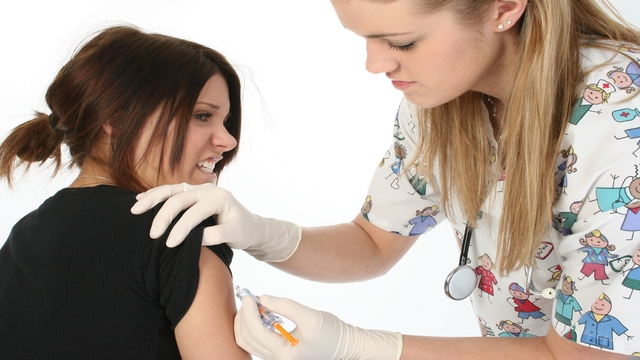 Jaimie Duplass/PhotoSpin
In the United States between 1998 and 2007, around 1,500 people were infected with meningococcal disease, a type of meningitis, according to the National Meningitis Association. The bacterium Neisseria meningitidis causes meningococcal disease, with the majority of cases occurring in children and adolescents. When a person becomes infected, Neisseria meningitidis causes an inflammation of the meninges, which cover both the spinal cord and the brain. Symptoms of meningococcal disease include photophobia (a sensitivity to light, purpura (bruise-like areas), a severe headache, nausea, vomiting, petechiae (a rash that has pinpoint red spots), and a stiff neck. Some patients with meningococcal disease may have rapid breathing, decreased consciousness and agitation.
Meningococcal disease can be deadly. The National Meningitis Association noted that 11 percent of those infected will die, with MedlinePlus adding that those at highest risk for dying from meningococcal disease are young children and adults who are over age 50. Two vaccines exist in the United States: meningococcal polysaccharide vaccine and meningococcal conjugate vaccine. But nearly half of preteens and teens in the United States have not been vaccinated, according to Voices of Meningitis. Even more shocking is the number of preteens and teens who engage in risky behaviors that put them at greater risk for contracting meningococcal disease.
The National Association of School Nurses, in collaboration with Sanofi Pasteur, recently conducted a survey on meningococcal disease. Linda Davis-Alldritt, MA, BSN, RN, FNASN, FASHA, the president of the National Association of School Nurses, told EmpowHer "the survey found that while most preteens and teens are aware that certain activities can increase their risk of getting meningitis, like sharing eating utensils, water bottles or drinking glasses, and even kissing, 82 percent still engage in these activities. That is why school nurses across the country have joined the Voices of Meningitis campaign, so we can help educate about the dangers of this disease, how it's spread and the importance of prevention through vaccination."
The Voices of Meningitis campaign encourages parents to be aware of the dangers of meningococcal disease and to get their children vaccinated. "Meningococcal disease may be rare, but the impact it has on families is often devastating. The disease moves very quickly and can be easily misdiagnosed because early symptoms are similar to other common viral illnesses. This disease can take a child's life in just a single day or leave those who survive with long-term health complications like loss of arms and legs, brain damage, organ damage and hearing loss.
Preteens and teens are at greater risk for getting meningitis, and health officials recommend they be vaccinated beginning at age 11, with a booster dose by 18 years of age. Vaccination is the best way to help protect against the disease so I encourage parents to talk with their child's school nurse or health- are provider to learn more," stated Davis-Alldritt. Parents can also get more information from the Voices of Meningitis campaign from their website www.VoicesOfMeningitis.org or their Facebook page Raise Your Voice Against Meningitis.
References
National Meningitis Association. Meningitis Statistics. Web. 29 August 2011
http://www.nmaus.org/meningitis
A.D.A.M. Meningitis – Meningococcal. MedlinePlus, 2010. Web. 29 August 2011
http://www.nlm.nih.gov/medlineplus/ency/article/000608.htm
Centers for Disease Control and Prevention. Vaccines and Preventable Diseases: Meningococcal Vaccination. Web. 29 August 2011
http://www.cdc.gov/vaccines/vpd-vac/mening/default.htm
Voices of Meningitis. Get the Facts About Meningitis. Web. 29 August 2011
http://www.voicesofmeningitis.org/get-the-facts-the-basics.html
Voices of Meningitis. Vast Majority of Preteens and Teens Engage in Activities That May Put Them at Risk for Contracting Meningitis. Web. 29 August 2011
http://multivu.prnewswire.com/mnr/voicesofmeningitis/50125
Interview with Linda Davis-Alldritt, MA, BSN, RN, FNASN, FASHA. Email. 26 August 2011
Reviewed August 29, 2011
by Michele Blacksberg R.N.
Edited by Jody Smith