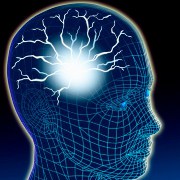 liquidlibrary/Thinkstock
Mention of meningitis can strike fear into the hearts of all hearers. We've all heard of people dying soon after coming down with the disease.
While bacterial meningitis can be very dangerous, viral meningitis is the more common type and it is generally milder. Fungi, some types of cancer, head injuries or medication reactions can also cause meningitis.
Viral meningitis is less dangerous than bacterial meningitis. Its symptoms are more like a bad case of the flu.
Viral meningitis results from viruses like enteroviruses, especially in summer and autumn. Enteroviruses breed in the digestive tract and travel through the body, and meningitis can be the result.
Mucus, feces and saliva are vehicles for the transmission of the viruses. Viral meningits tends to run its course in a matter of a few weeks.
Bacterial meningitis is most commonly caused by Streptococcus pneumoniae and Neisseria meningitidis. Coughing and kissing can facilitate the spread of bacterial meningitis.
Bacterial meningitis commonly strikes children under five years of age. Babies under one year of age may not survive. Adolescents between the ages of 15 and 19 years of age are another age group that are at higher risk.
Bacterial meningitis if it is not treated can cause brain damage and blood infection known as septicemia. It must be treated with antibiotics in the hospital and sometimes in Intensive Care.
Even after antibiotic treatment has begun, bacterial meningitis is still contagious for 24 hours or more.
Meningitis is inflammation of the membranes surrounding the brain and spinal cord called meninges. The meninges are membranes which cover for your brain and your spinal cord, and contain blood vessels and cerebrospinal fluid.
Infection somewhere else in the body may have spread into the cerebrospinal fluid via the blood. Cerebrospinal fluid travels through the spaces around and within the brain and spinal cord.
There are three layers to the meninges. The layer closest to the organs of the central nervous system is called the pia mater. Next is the arachnoid layer. The layer furthest away from the brain and the spinal cord is called the dura mater.
Meningitis affects these parts of the body when the meninges are inflamed. If the inflammation is severe enough, you're looking at encephalitis which is an inflammation of the brain.
While anyone can get meningitis the young and the old are most vulnerable. Some symptoms of meningitis are intense headache and stiffness in the neck. High fever, skin rash and vomiting as well as sensitivity to light may be experienced.
Sources:
What is Meningitis? News-medical.net. Retrieved Oct. 16, 2012.
http://www.news-medical.net/health/What-is-Meningitis.aspx
Meningitis. Kidshealth.org. Retrieved Oct. 16, 2012.
http://kidshealth.org/teen/infections/bacterial_viral/meningitis.html
Visit Jody's website and blog at http://www.ncubator.ca and http://ncubator.ca/blogger
Reviewed October 17, 2012
by Michele Blacksberg RN
Tags: