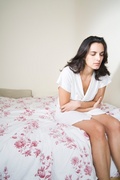 Photo: Getty Images
The National Digestive Diseases Information Clearinghouse (NDDIC), a service of the National Institutes of Health and the National Institute of Diabetes and Digestive and Kidney Diseases, explains that about one in five people in the United States has irritable bowel syndrome (IBS). The disorder affects women more often than men.
Patients with IBS experience a loss of appetite, abdominal distention (a swollen abdomen) and abdominal fullness. Emotional distress and depression can occur. IBS patients can also have chronic and frequent diarrhea or chronic and frequent constipation, which may occur along with pain. Other symptoms of IBS include abdominal pain, which comes and goes, occurs after meals and reduces after a bowel movement. MedlinePlus, a service of the U.S. National Library of Medicine and the National Institutes of Health, points out that worse IBS symptoms can occur in patients with depression and anxiety.
The NDDIC notes that doctors have not found a specific cause for IBS, but different theories exist. For example, IBS may have to do with sensitivity of the colon or large intestine. Patients may have IBS if they have a bacterial infection in the gastrointestinal tract or have diminished serotonin receptor activity in the gastrointestinal tract. Another possible cause is that the colons in IBS patients do not have normal motility.
A new study published in the journal Gastroenterology notes that women with IBS can have changes in the brain, specifically in the gray matter. The brain is made up of both gray matter and white matter. The gray matter contains cell bodies, while the white matter contains the nerve fibers. HealthDay News reports that the study included 55 women with IBS and 48 women without the disorder. The researchers analyzed differences in their brain, and found that "the IBS patients had increases and decreases of gray matter in specific cortical brain regions involved in cognitive and evaluative functions." The areas of the brain that were different in IBS patients are involved in emotion regulation, attention and pain inhibition. These brain regions also process information sent from the gastrointestinal system.
This study provides interesting insight into IBS. For example, HealthDay News wrote that IBS is considered a "functional" disorder, but this study suggests that IBS also has an "organic" component to it, since changes occurred to an organ (the brain). The site adds that future research involving IBS and brain changes will look at the possible role of genetics.