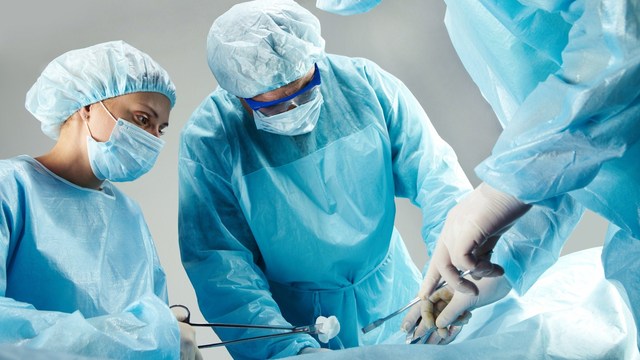 MonkeyBusiness Images/PhotoSpin
Does your abdomen generally hurt or have odd vague pains that are difficult to describe to your health care provider? Does it hurt after you eat, during a bowel movement or during sex? Have you been through imaging only to be told, "Nothing is wrong"? Consider adhesion related disorder (ARD).
ARD occurs when adhesions form in your abdominal cavity, often between organs and/or your muscles and tendons. An adhesion is typically scar tissue that forms due to trauma or surgery in the area that then prevents the organ or muscle to move or function properly.
For example, if scar tissue formed around the intestines, then when your intestines move as you were digesting food and drinks it pulls and tugs on the scar tissue causing pain or cramping. It may also slow your digestion.
Scar tissue that forms over your ovaries may cause increased ovarian pain and decreased fertility as the egg is unable to release properly.
Scar tissue that forms between organs or muscles may also cause pain, cramping or inflammation during certain movements such as core exercises, twisting motions, or sex.
Surgery is the number one reason for ARD as the trauma of surgery causes the body to make adhesions as part of the repair process. Unfortunately, there is no direction or thought process behind the creation of scar tissue and problems occur.
It is also very difficult to get rid of this scar tissue as surgery to remove the adhesions may end up creating more trauma to the area.
Typical surgeries include cesarean sections, gall bladder or appendix removal, hysterectomy, surgery to remove endometriosis, bladder surgery, abdominal surgery due to infection or trauma (such as a car accident), and tummy tucks or liposuction.
Adhesions may also form as a result of infection, chemotherapy, radiation, trauma to the area (besides surgery), and endometriosis.
Diagnosis is often made based on the symptoms and history of abdominal and/or pelvic surgeries as the adhesions may not always be seen on imaging. However the nature of the symptoms usually prompts an ultrasound or MRI for better visualization.
Additional work up may include a colonoscopy, laparoscopy, and testing for certain conditions such as celiac disease.
Treatment is difficult as there are no drugs or medications that can dissolve the scar tissue to date, nor is there a preventative medication that someone could take prior to surgery.
Besides more surgery to remove the adhesions, there are certain alternative methods that may be helpful such as abdominal massage, acupuncture, low level laser therapy, enzyme therapy to dissolve the fibrin, castor oil topically (not taken internally!. Some bodywork experts focus on fascial release.
If you have a history of abdominal or pelvic surgery and are now experiencing unexplained pain, inflammation or problems with the intestines or ovaries – talk to your health care provider about adhesion related disorder.
Sources:
International Adhesions Society. Web. 21, July, 2013.
Retrieved from http://www.adhesions.org
Wiseman, DM. Disorders of adhesions or adhesion-related disorder: monolithic entities or part of something bigger--CAPPS? Web. 21 July, 2013.
Retrieved from http://www.ncbi.nlm.nih.gov/pubmed/18756413
Reviewed July 29, 2013
by Michele Blacksberg RN
Edited by Jody Smith