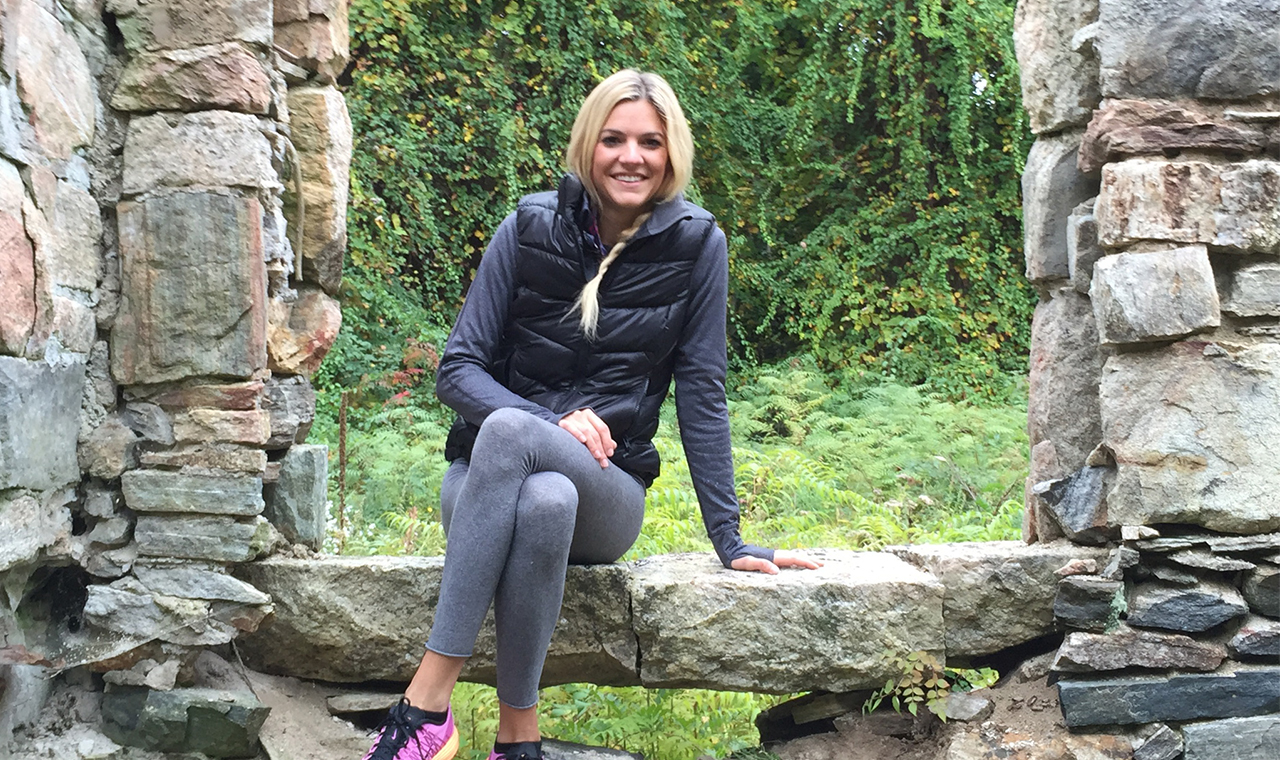 Photos courtesy of Ashley Walkley
Sponsored by: IBSchek™
Ashley Walkley was always an active, energetic and fun-loving Type A kind of girl. But in 2008, at age 27, even her vitality was no match for the symptoms she was beginning to experience.
Ashley was living the life she had always dreamed of, having moved to Los Angeles, California to work as a marketing manager for a real estate company. But she started to experience distressing and painful symptoms that nothing would alleviate.
Bloating, cramping and intense nausea became constant companions. Lack of appetite accompanied unwanted weight loss. She never knew when she would have to dash for the bathroom, and she spent a lot of time there. Her fatigue levels were off the charts.
Ashley thought at first that she might be inadvertently causing these issues – too much caffeine? She always was a real go-getter; maybe it was catching up with her and she needed to take things down a notch?
"I thought it was stress and that I just needed some time off," Ashley said.
By March 2009, she could hardly eat. Gastrointestinal distress and migraines were ruling her life, and her ability to focus at work suffered. All extracurricular activities disappeared.
In May, Ashley saw a new general practitioner (GP), but to no avail. By July, her weight had plummeted from 126 pounds to 111 pounds, though she was 5' 9" tall.
Ashley saw a gastroenterologist who diagnosed her with H. pylori, a type of bacteria, in her stomach and small intestine, as well as small intestinal bacterial overgrowth, or SIBO. She followed all of his treatment plans.
Her goal was to stop what she described as, "the morning rituals of countless trips to the bathroom - embarrassing and unpredictable at work, on the road and in any social situation."
A month later, she was found to be negative for H. pylori, but still positive for SIBO. Doctors thought she had Crohn's disease for a while as well. In an effort to discover the source of her suffering, Ashley underwent more than ten different tests, some of which were very invasive, including a colonoscopy, an endoscopy, and an esophageal manometry.
In 2011, she went to Cedars Sinai Digestive Disease Center – GI Motility Program in Los Angeles. Her SIBO came back seven times and the painful symptoms continued.
"I felt helpless and grew tired of reading labels and feeling like I was restricted socially because it was too hard to eat out. I always needed to know where the restroom was, and I never really felt well. Ever. It was exhausting, and I was miserable," she said.
In October 2014, all symptoms returned with great intensity. Ashley was transferred to Dr. Mark Pimentel, M.D., FRCPC, Director of the Gastrointestinal Motility Program and Laboratory at Cedars-Sinai, who over the next year brought light to her poor health.
Dr. Pimentel was conducting groundbreaking research on potential organic causes of irritable bowel syndrome with diarrhea (IBS-D), which allowed Commonwealth Laboratories, LLC to develop and validate IBSchek™, a simple blood test that can provide patients with a quick and reliable diagnosis of IBS-D using two biomarkers that were indentified in his research.
Ashley was one of Dr. Pimentel's first patients to use IBSchek™. This simple blood test took all of five minutes and provided results within 24 hours that finally gave her a real answer to her health issues.
"I got lucky and fell into this program at the right time and had the opportunity to be a patient of his," Ashley said. "I had been following his SIBO research even before I became a patient and somehow felt he could help me find the answers I had been looking for."
In July 2015, Ashley finally received a diagnosis of IBS-D, almost 7 years after she began experiencing symptoms. She said that the IBSchek™ test made all the difference.
"I have peace of mind and an answer ... a real answer. I can stop running in circles looking for answers and always wondering ... what is it?" Ashley said.
A simple blood test like IBSchek™ can eliminate years of costly and invasive testing and misdiagnoses for IBS-D patients. Ashley suffered for 7 years while searching unsuccessfully for the cause of her symptoms, but IBSchek™ was able to provide her with an accurate diagnosis pointing to a condition that she can now treat.
IBSchek™ also allows doctors to rule out other conditions such as ulcerative colitis and Crohn's disease.
Dr. Pimentel's research confirmed that IBS-D can be caused by a bacterial infection which may be the result of food poisoning. The study results showed that, after this type of infection, elevated levels of antibodies directed against the bacterial toxin CdtB and the naturally occurring protein Vinculin, persist in the blood. This allows healthcare providers to diagnose IBS-D by measuring levels of these antibodies, also known as biomarkers, in the patient's blood specimen.
Ashley now understands that she got sick because she had food poisoning years ago.
"I have IBS-D caused by the anti-vinculin antibody which I got from food poisoning at some point in my life that has damaged the nerves in my gut," she said.
Now that Ashley has a better understanding of what her true health issue is, she is able to treat it appropriately.
She is using medication to heal the damaged nerves in her gut, in an effort to help move food along better in her GI tract.
Ashley is currently following a low fermentation diet, which was developed by Dr. Pimentel as well.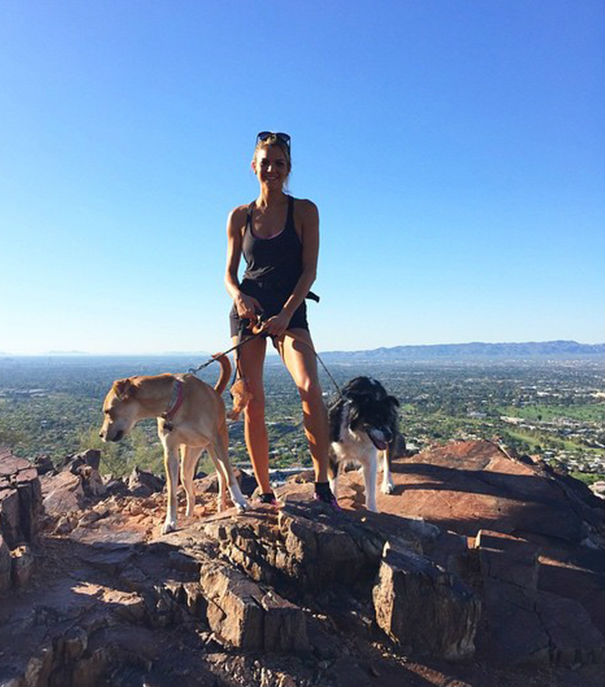 She has found yoga to be beneficial for the relief of gas and bloating. As a young woman who grew up loving physical activity, she is moving back into as much of that as she can. She engages in paddle boarding, running and spinning, and has recently begun investigating foot reflexology for areas affecting the stomach.
Diagnosis and recovery can take a long time, but she encourages others living with IBS and other autoimmune conditions to have hope.
Living with undiagnosed IBS-D, Ashley admits there were times when she felt very much alone, and more than a little crazy, as she dealt with her invisible illness. She was living with such severe symptoms, but the people around her could only see that she pulled back from everything she used to embrace.
She wasn't fun anymore. She couldn't be counted on to show up. Her reasons sounded like excuses, and all the while she was suffering, with next to no support from the people in her life. Ironically, what they saw was interpreted as weakness. They didn't see the enormous strength it took for Ashley to get from one day to the next. She does recall receiving a great deal of support from her parents, however.
Now, at age 34, Ashley has discovered just how strong she really is.
"I'm determined to change the outcome and not let this disease change me," Ashley said. "If I can change even one person's perception and understanding of what IBS can be – that it's real and not in my head, it's not stress, it's not something I did to myself– and if I can shape the education and knowledge by speaking out about it publicly, it helps my healing because I know there are millions of others just like me."
To learn more about IBSchek™, visit: http://ibschek.com/.
Tags: