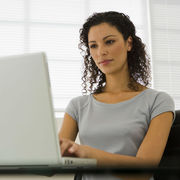 Hypothyroidism is an underactive thyroid gland ("hypo-" means "under" or "below normal"). Hypothyroidism means that the thyroid gland cannot produce enough thyroid hormone to keep the body functioning normally.
When affected by a thyroid condition, one may experience a variety of symptoms. Because there are so many different symptoms for thyroid conditions, it can often be overwhelming. To determine which thyroid condition you have and learn how to manage your condition, it is best to identify the symptoms you are experiencing.
Individuals with a thyroid condition may experience physical symptoms, cognitive and mood-related symptoms, or other symptoms. It is important to establish the symptoms you are experiencing in order to know which type of thyroid condition you have.
Symptoms of hypothyroidism- Might indicate that the body is not producing enough of the thyroid hormone thyroxine:
• weight gain or trouble losing weight
• dry skin
• yellow or pale skin
• brittle nails
• hair loss, including from the eyebrows
• swollen face
• swollen hands
• swollen legs, ankles or feet
• feeling cold all over
• aches and pains in muscles or joints
• hoarse or raspy voice
• decreased appetite
• constipation
• heavy menstrual bleeding or irregular periods
• fatigue
• slower thinking
• trouble remembering things
• slower speech or reflexes
• trouble concentrating
• feeling sad or depressed
• enlarged thyroid gland
• changes in cholesterol
• infertility
• slow heart rate
References:
1. American Thyroid Association. ATA Hypothyroidism Booklet. Falls Church, Va: American Thyroid Association; 2003.