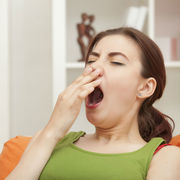 Fatigue, unexplained weight changes, abnormal cholesterol or blood pressure, feeling depressed, menstrual cycle irregularities, heart palpitations, foggy thinking… all can be symptoms of thyroid disease. According to the American Association of Clinical Endocrinologists, an estimated 30 million people may be affected by thyroid disorders. Of the estimated 30 million Americans who live with thyroid disease, more than eight out of 10 of them are women – and half of the patients have not been diagnosed and do not know they have it. But why is thyroid health so important?
Thyroid dysfunction may manifest itself in one of two ways – underactive (thyroid gland does not produce enough thyroid hormone) or overactive (thyroid gland produces too much thyroid hormone).
Thyroid Condition Management
Because the thyroid gland and hormonal system are delicate, management of thyroid disease and follows-ups with a physician are critical. Successful management of hypothyroidism requires very specific and individualized dosing, and even small changes in dosing can significantly affect TSH (thyroid stimulating hormone) levels.
When to Ask for a Thyroid Test
Thyroid dysfunction is usually caused by an autoimmune condition, one of many conditions where the body's immune system attacks itself. As an autoimmune condition, the genetic links for thyroid disease are very high, particularly for women. Another risk factor may be a personal or family history of thyroid and/or autoimmune disease.
Though there are many symptoms of thyroid disease, some individuals experience only a few or none at all. It is important for individuals to speak up when they feel poorly or have consistent symptoms such as ongoing fatigue, unexplained weight loss or gain, foggy thinking, sensitivity to heat or cold, digestive issues and brittle hair or nails.
A blood test known as the TSH test can determine if thyroid disease is present. Your doctor will determine the treatment that is right for you.
For more information about thyroid disease, its symptoms and questions to ask your doctor, visit www.powerofprevention.com, AACE's endocrine awareness and patient education website.
References:
1. American Association of Clinical Endocrinologists. AACE Thyroid Awareness – Thyroid Top Ten. http://www.empoweryourhealth.org/thyroid-top-ten

2. Thyroid Institute of Utah. Thyroid Disease Fast Facts. http://www.thyroidutah.com/thyroid-disease/fast-facts. Accessed April 17, 2012
3. Baskin HJ, Cobin RH, Duick DS, et al; for American Association of Clinical Endocrinologists. American Association of Clinical Endocrinologists medical guidelines for clinical practice for the evaluation and treatment of hyperthyroidism and hypothyroidism. Endocr Pract. 2002;8(6):457-469.
Tags: