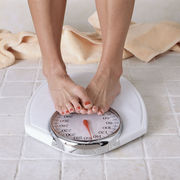 Hypothyroidism can cause symptoms that affect the way you feel, the way you look, and even the way you sound. There is a wide range of hypothyroidism symptoms. Hypothyroidism is the opposite of hyperthyroidism – or overactive thyroid – a condition in which the thyroid gland makes too much thyroxine. Here are some common symptoms:
Physical symptoms:
• Weight gain (due to fluid retention)
• Dry skin
• Yellow skin
• Hair loss, including the eyebrows
• Swollen face, hands, legs, ankles, or feet
• Feeling cold
• Aches and pains in muscles or joints
• Hoarse or raspy voice
• Constipation
• Heavy menstrual bleeding or irregular periods
• Fatigue
Cognitive and mood-related symptoms:
• Slower thinking
• Trouble remembering things
• Slower speech or movement
• Feeling down or depressed
Symptoms you might not be aware of:
• Enlarged thyroid gland (your doctor can check for this during an exam)
• Changes in cholesterol
• Slow heart rate
• Infertility
Keep in mind that just because you have some of these symptoms doesn't mean you have hypothyroidism. And some people with hypothyroidism experience only a few mild symptoms, or sometimes, no symptoms at all. If you think you might have hypothyroidism, see your doctor for a proper diagnosis.
When making a hypothyroidism diagnosis, doctors rely on medical history, symptoms of hypothyroidism and results from simple blood tests including the TSH test and sometimes an FT4 test. Even after proper diagnosis and treatment, you may still experience some of these symptoms, especially if they are caused by another medical condition.
References:
1. American Thyroid Association. ATA Hypothyroidism Booklet. Falls Church, Va: American Thyroid Association; 2003.

2. Kronenberg HM. Williams Textbook of Endocrinology. 11th ed. Philadelphia, PA: Saunders Elsevier; 2008.
Tags: