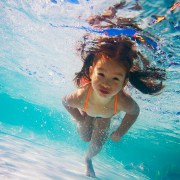 Photo: Getty Images
I consider swimming the perfect exercise for kids. It wears them out and increases their appetite. After a morning of dunking, splashing, and diving, our son would eat everything I put in front of him and then take an extra long nap. Unfortunately, one summer when he was 10, he experienced a case of painful swimmer's ear. Patrick yelped in such pain, at first I believed there might be a foreign object stuck in his ear.
Swimmer's ear, or otitis externa, is an infection in the ear canal usually caused by frequently damp ear canal tissue. Wet ear canals are a prime spot for bacteria and fungi to grow, causing an infection. If you are not a swimmer, otitis externa infection can also develop after the ear canal is accidentally scratched. In extreme cases, this infection can also be caused by a middle ear infection, or otitis media. If pus from the middle ear infection drains into the ear canal, a case of otitis externa may also develop.
Besides itching and severe ear pain, especially when you tug on the earlobe, you may also see colorful pus drainage from you child's ear. Your child may also complain of muffled hearing or hearing loss. The ear canal tissues will appear red and perhaps so swollen that the doctor can't see all the way inside.
The most common treatment for swimmer's ear is a seven to 10 day prescription for eardrops containing some combination of antibiotic or antifungal, corticosteroids to reduce swelling, and acidic solution. Patrick's swimmer's ear caused so much swelling, the doctor popped cotton wicking into his ear. I placed the drops on the wick, the cotton became saturated, and the medicine was whisked into the ear, straight past all those swollen and sore ear tissues. The doctor may also prescribe oral antibiotics or do a culture to identify bacteria. We were advised, of course, to stay out of the pool for 10 days.
The threat of swimmer's ear doesn't have to keep you and your child out of the water. According to the Mayo Clinic, mix equal parts of white vinegar and rubbing alcohol. Before and after swimming, pour a teaspoon of the somewhat smelly solution into both ears. Let it slowly drain back out. This is not recommended if the swimmer has a punctured eardrum, and of course, always check your doctor's advice first.
Sources:
http://www.mayoclinic.com/health/swimmers-ear/DS00473/DSECTION=prevention
http://www.cdc.gov/healthywater/swimming/rwi/illnesses/swimmers-ear.html
Reviewed May 19, 2011
Edited by Alison Stanton
Tags: