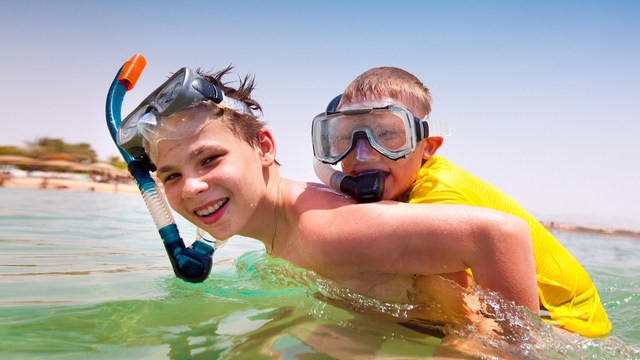 Andrey Armyagov/PhotoSpin
What is Swimmer's Ear?
Swimmer's ear (acute otitis externa) is inflammation, irritation or infection of the outer ear caused by water getting trapped in the ear. This condition is called "swimmer's ear" because it commonly affects swimmers. Children and teenagers are most prone to swimmer's ear, but those with eczema or excess earwax can also suffer from it.
Water from any source can cause it — whether it's from bathing, swimming, showering, or even splashing in puddles or sprinklers. Bacteria in the skin and in the ear canal can multiply in this trapped water, resulting in an infection in the ear canal.
Other factors may contribute to swimmer's ear, such as:
• Excessive cleaning of the ear canal with cotton swabs or other objects
• Damage to the skin of the ear canal following water irrigation used for wax removal
• A cut in the skin of the ear canal (1)
What are the Signs and Symptoms of Swimmer's Ear?
Signs and symptoms of swimmer's ear include:
• Itching in the ear
• Pain that worsens when you tug on the outer ear
• Feeling of blocked or full ear
• Drainage
• Fever
• Decreased hearing
• Intense pain that "radiates" to the neck, face or side of the head
• Swollen lymph nodes around the ear or the upper neck
• Redness and swelling of the skin around the ear
How is Swimmer's Ear Treated and Prevented?
It is important that swimmer's ear be treated so hearing loss, recurring ear infections and damage to the bone and cartilage can be avoided.
In the early stages of swimmer's ear, treatment includes cleaning the ear carefully and "use of eardrops that inhibit bacterial or fungal growth and reduce inflammation. Mildly acidic solutions containing boric or acetic acid [vinegar] ..." (1)
Your child's doctor may prescribe ear drop antibiotics to help fight the infection. The drops usually contain a steroid to help reduce the swelling. Antibiotic treatment lasts about 7 to 10 days.
Depending on the extent of the infection, the doctor may also need to remove pus and debris from the ear through gentle cleaning or suction so that the eardrops can be more effective in fighting the infection.
Over-the-counter pain medications can also be used to manage the pain. Acetaminophen is great for pain and ibuprofen, because it's an anti-inflammatory, works well for both the pain and the swelling. Placing a warm washcloth or heating pad against the infected ear will also help ease the pain and swelling. (2)
To prevent swimmer's ear, the American Academy of Otolaryngology-Head and Neck Surgery recommends:
• Keeping ears free of moisture during swimming and bathing
• Using ear plugs while swimming
• Drying your child's ears with a dry towel or hair dryer
• Having your child's doctor or ear, nose and throat specialist (otolaryngologist) clean the ears if they are itchy, flaky, scaly, or produce a lot of earwax
• Do not use cotton swabs or other objects to remove earwax because they can "pack ear wax and dirt deeper into the ear canal, remove the layer of earwax that protects your ear, and irritate the thin skin of the ear canal. This creates an ideal environment for infection." (1)
Sources:
1. Swimmer's Ear. American Academy of Otolaryngology-Head and Neck Surgery. Web. July 15, 2013.
http://www.entnet.org/HealthInformation/swimmersEar.cfm
2. Swimmer's ear. KidsHealth.org. Web. July 15, 2013.
http://kidshealth.org/parent/infections/ear/swimmer_ear.html
Reviewed July 15, 2013
by Michele Blacksberg RN
Edited by Jody Smith