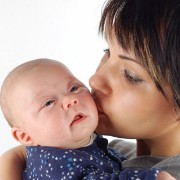 Photo: Getty Images
Candida (thrush) is a fungus that lives in the gastrointestinal tract, the mucous membranes of the respiratory system and the female genital tract, where it normally does no harm. It only causes infection if it becomes overgrown.
Newborns are exposed to candida via vaginal childbirth which then colonizes in their intestines. If the mother has an overgrowth of candida at the time of the birth, the baby can get thrush.
Babies can also get thrush from close contact with family members. If the baby has diaper rash, it can cause candida to grow faster as the fungus likes irritated and wet skin, making it an ideal environment for it.
Candida can also infect the mouth (this is called oral thrush) and can sometimes occur in breastfeeding babies when they nurse at the breast of an infected mother.
Candida can cause infectious mastitis in mothers. If the milk ducts become blocked, the milk that remains in the tissue may become infected.
Toddlers can also get oral thrush around their fingernails if they suck their thumbs. It can occur in outbreaks in daycare centers and other childcare settings and are thought to be the result of the increased use of antibiotics.
Antibiotics disrupt the natural flora of a person, leading to overgrowth of microbes and can increase the likelihood of getting thrush.
Treatment
Genital thrush can be treated with nystatin cream, an anti-fungal cream. If it is oral thrush, it can be treated with a medicine called miconazole, but you should not give this to babies less than four months old due to the risk of choking.
If the oral thrush is mild, it may not need treatment as most mild infections go away on their own.
Alternative Treatment
You can rebalance your baby's intestinal flora with good bacteria that "eat up" the bad bacteria. Special baby probiotics can be added to the baby's breast milk, formula, juice or water. Please check the product instructions to make sure it is suitable for your baby's age.
Taking vitamin C (500-1,000 mgs a day), vitamin E (200-400 IUs a day) and selenium (200 mcg a day) will help reduce inflammation and improve your immune system.
If you are breastfeeding, some of this benefit will pass to your baby. Omega oils will also have this effect (fish oil, evening primrose oil).
There are diaper ointments containing lavender and other essential oils to help ease soreness and act as a barrier.
Tea tree antiseptic cream can be used as it has proven antifungal activity in a test tube, however, it can be quite strong so only use a tiny amount on a baby and make sure the skin does not become irritated as a result. Don't use for oral thrush as it shouldn't be put near the face.
Leave the baby's diaper off for regular periods of time. You can do this by placing the baby on a towel on the floor. This gives his skin chance to breathe.
Prevention
You should only give antibiotics to your child if clearly needed. For instance, if your child has a virus, antibiotics will not help. Antibiotics increase his risk of getting thrush.
Mothers can take probiotics when pregnant to reduce the chances of their baby contracting thrush during the birth or when breastfeeding.
The baby should be regularly bathed and diaper changed. Disposable diapers keep the skin dryer so if you're using "real" diapers, you should change these more frequently than you would a disposable.
You can soak the diapers in a bucket of water with a couple of drops of tea tree oil added, prior to washing them. This will disinfect them.
Sources:
Thrush and Other Yeast Infections in Children, Medicine Net. Web. 17 February 2012. http://www.medicinenet.com/thrush_and_other_yeast_infections_in_children/article.htm#3howdo
Treating oral thrush in babies, NHS Choices. Web. 17 February 2012. http://www.nhs.uk/Conditions/Oral-thrush---babies/Pages/Treatment.aspx
Mastitis (breastfeeding), NHS Choices. Web. 17 February 2012. http://www.nhs.uk/Conditions/Mastitis/Pages/Introduction.aspx
Candidiasis, University of Maryland Medical Center. Web. 17 February 2012. http://www.umm.edu/altmed/articles/candidiasis-000030.htm
Joanna is a freelance health writer for The Mother magazine and Suite 101 with a column on infertility, http://infertility.suite101.com/. She is author of the book, 'Breast Milk: A Natural Immunisation,' and co-author of an educational resource on disabled parenting.
Reviewed February 17, 2012
by MIchele Blacksberg RN
Edited by Jody Smith
Tags: