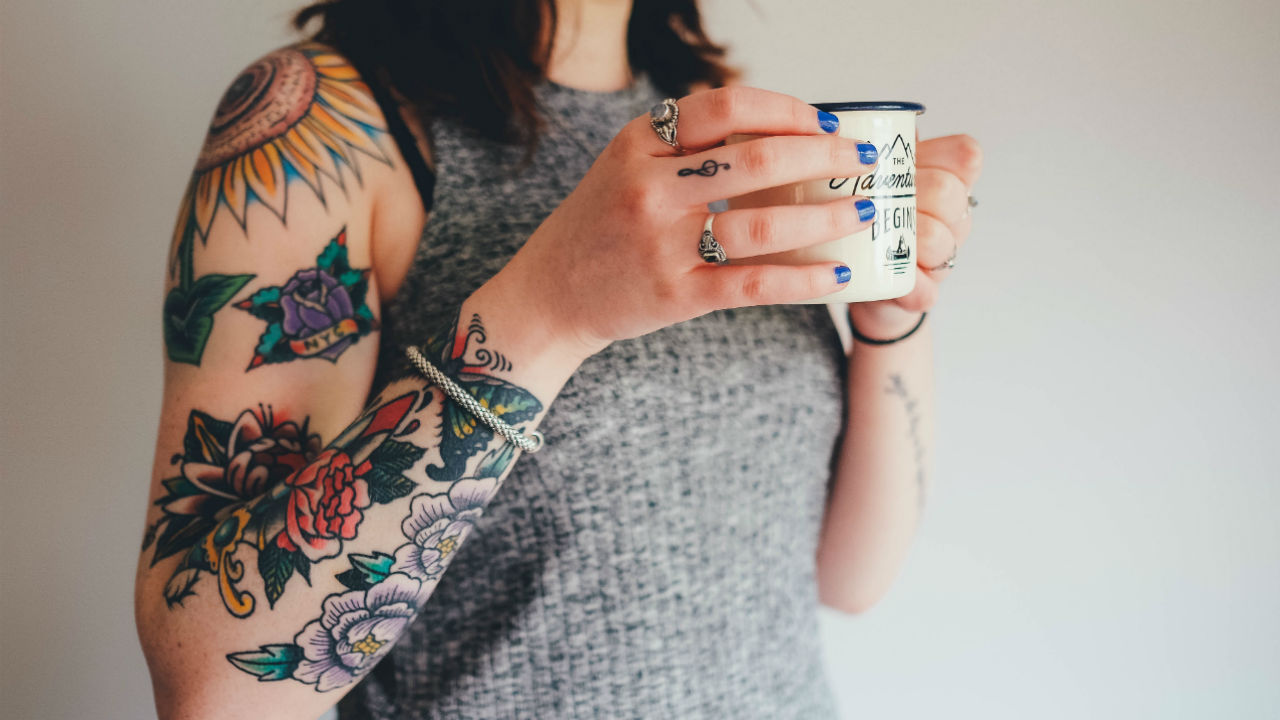 Annie Spratt/Unsplash
Some time in eighth grade, my sister and I decided we would get matching heart tattoos on the left corner of our left wrists. I'm not sure when we decided this; there was never a definitive moment. However, I suspect it developed when we, and the rest our friends, were really into doodling all over our hands and arms.
I always drew three stars on my left wrist — a classic middle-school move — but I knew the permanent ink must be a heart. My sister and I are twins born on Valentine's Day. It had to be honored.
Come mid-May our senior year of high school, we hopped into my mom's minivan with our best friend and headed to a tattoo parlor on a Tuesday night. Clad in my American Red Cross sweatshirt and black yoga sweats, I walked into the tattoo and piercing place where my sister had gotten her belly button pierced just three years earlier.
But we had to leave. My sister and I didn't have driver's licenses at the time, and forgot to bring our birth certificates. It didn't help that I had a young face either (and wet hair). Despite their condescension, the fact that they required ID was a good sign in retrospect. They were only following the rules.
We drove home and picked up our birth certificates. Then we headed to the other side of town to the tattoo parlor where my mom got her tattoo over a decade ago (Also a heart! But different.).
Because the tattoos were small and simple, the process was quick. I let my sister go first, as she is the older twin. She made some faces indicative of a little pain, but it really didn't hurt her at all. And the same went for me. When the needle buzzed away at my skin, the area would go numb until the tattoo artist lifted it up again.
After cleanup, payment and care instructions, we walked out of the tattoo parlor, happy with our first ink.
The most basic principle of a tattoo is that it is permanent. So yes, get something meaningful or a piece of artwork that is beautiful to you. More importantly, make sure to take care of it.
There is always a risk when you tamper with your body. When you get a tattoo, you will usually be given a set of instructions to follow about caring for your new ink.
Luckily, we also have a step-by-step guide for you to follow:
1) The artist will put some sort of a bandage on your tattoo after they are done. Not all parlors are exactly the same, but for my tattoos, the artist wrapped it in a bandage that resembled plastic wrap. You are to leave this bandage on one to three hours, which collects all the goop, blood and ink.1
2) After the allotted time, remove the bandage. You want the tattoo to breathe so bacteria doesn't grow. Make sure you wash your hands before removal so as to prevent infection. If your tattooed area feels sore, you can take over-the-counter pain medication.1
3) Now that the bandage is removed, you will need to wash your tattoo and the skin surrounding it. Be sure to use a soap that does not have a fragrance, or high amounts of alcohol or petroleum. Stay away from loofahs and cloths as well— they may harbor bacteria.
When it comes to rinsing the skin, use lukewarm or cold water. Only let enough water run over it to remove the grime. You don't want it soaked or heated up. Using hot water opens your pores, which may lead to ink leaking out of the skin.
To dry, use a paper towel. This will lower risk of infection and prevent stains on your nice towels. There is no need to wipe or scrub the tattoo. Just pat it dry. After this, the tattoo no longer needs to be bandaged.2
4) For the next two to three weeks, wash the tattoo several times a day. And remember: always wash your hands first and use soft, non-scented antibacterial soap.1
5) For the next three days, apply an ointment after washing the tattoo to keep it hydrated. You can ask your tattoo artist what they recommend, otherwise Aquaphor or A+D ointment are good options. Though the skin needs to be hydrated, use the ointment sparingly. A thin layers works perfectly.1
6) When the three days are up, switch from ointment to a non-scented lotion.1
7) Caring for your tattoo goes beyond hygiene. Avoid wearing tight clothing the first couple of weeks. Your skin needs to breathe. After all, you just irritated the heck out of it.
Wearing tight clothes can also lead to scabbing, and furthermore ink loss, from the clothing rubbing against the tattoo. Unfortunately, you'll have to also stay away from bodies of water and intense exercise. You don't know what kind of microorganisms are in the ocean!
You also don't want to expose your tattoo to the sun, so as to avoid fading the ink. As for hitting up the gym, excessive sweating can damage the tattoo during the healing process.1
8) When the tattoo starts to develop a hard layer or scab, don't worry. This is all normal. DO. NOT. SCRATCH. Scratching risks damaging or even removing color.1
9) Continue these steps until the tattoo is healed.1
10) Your tattoo is healed? Great! But don't think taking care of it is over. Just like you are bound to your body, you've got your tattoo for life! So that means continuing to make sure it stays clean and pretty. Forever.
Your tattoo will get a little lighter when it heals because skin is growing back over the ink. Don't fret. You can still keep the coloring nice and solid.
Whenever you go outside, wear sunscreen. If you want a special kind for tattoos, you can find those here. You'll also want to keep your tattoo hydrated, so be sure to moisturize it. This will also slow fading.1
If you abide by these steps, your tattoo should heal nicely. Nevertheless, everyone has different skin, so everyone reacts differently. When you're getting your tattoo and being bandaged up, don't freak out if there is some blood. This is normal.
Your tattoo is basically an open wound. Think about it — needles just punctured your skin thousands of times in one sitting.4 However, if you're experiencing more bleeding than normal, you will need to consult a doctor.
As a precaution, be sure not to drink alcohol or take aspirin before you get your tattoo, as they can act like blood thinners which may cause more bleeding during the process.3
Also, take note of any pus. If it's clear, everything is good. On the other hand, green and yellow pus indicate infection, which means you'll need to see a doctor.3
The most common way an infection can occur is if you don't take proper care of the tattoo. Aside from not keeping the tattooed skin clean, other risks for infection include using an uncertified tattoo artist, unsterilized equipment, and bacteria in the air.
Do expose the tattoo to fresh air. Don't allow your clothes to rub against it. If your tattoo appears infected, consult a doctor as soon as you can.6
This can all sound tedious. But once you get into the routine, caring for your tattoo becomes natural and isn't bothersome at all. So be sure to do your research! Find a tattoo parlor that is clean, and that also makes you feel comfortable.
Ink is forever, so it makes sense that it takes some effort.
Reviewed November 14, 2016
by Michele Blacksberg RN
Edited by Jody Smith
Read more in HER Beauty