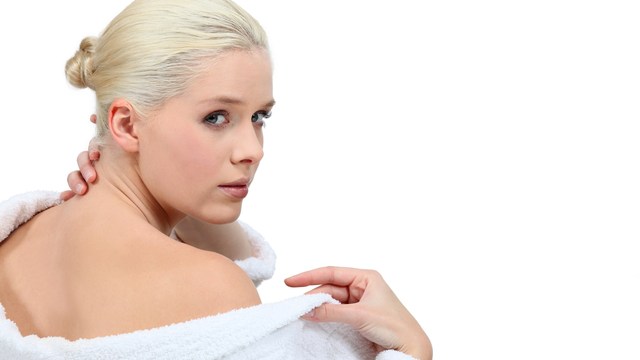 Auremar/PhotoSpin
People have complained of having itchy areas in their upper back for centuries. The itch usually occurs between the shoulder blades either in the middle of the back or just underneath one shoulder blade.
Interestingly, one review stated they thought the back scratcher was invented to scratch that annoying itch because it is so difficult to reach.
Various studies have identified that the persistent itch is due to a nerve-driven signal called notalgia paresthetica (NP). The most likely cause is from a nerve impingement. Nerves that exit that level of the spinal column that are involved in sensation to the skin have become pinched or squeezed.
This can occur due to muscle spasms or degenerative changes to the spine. Nerve-related itching is also called neuropathic pruritus or neuropathic itch.
The skin in that area of the back becomes hypersensitive. Being rubbed by a shirt tag or having overly dry skin can set off an episode of prolonged itching to that localized spot. Other symptoms can occur, such as pain or altered sensation.
The skin can become darkened from constant scratching so seeking the advice of a dermatologist may be helpful to prevent further damage to the area.
Dr. Cynthia Bailey, dermatologist in California, wrote about several treatments in her blog that she suggests to her patients to relieve NP. First and foremost though, she recommended making sure that the skin is moisturized to reduce any itching caused by dry skin.
1) Wear soft non-irritating fabrics and remove labels to avoid potential problems.
2) Place an ice pack over the itchy area. The cold sensation will override the itch. Do not use heat, as it will just intensify the itching.
3) Avoid scratching. Scratching strengthens and thickens the skin surrounding the nerve causing a cycle of increased itching.
4) Try anti-itch creams that have pramoxine or menthol in them.
5) Topical prescription steroid cream or oral anti-itch medication may be tried but may not be effective.
Other treatments that may improve the itching are: capsaicin cream, acupuncture, biofeedback, TENS (transcutaneous electrical nerve stimulation) machine treatment, and exercise.
In more advanced cases, a doctor can inject Botox or block the nerve with an injection of lidocaine. There are also some prescription oral medications that act to block overly irritable nerve impulses but they have side effects that may not be well tolerated.
NP is common in middle-aged women and can last for months or even years. However, it is not a life-threatening condition. While NP can be a frustrating and annoying problem, it is felt that educating patients is one of the most important parts of treatment.
Sources:
What causes itching in the middle of the back? Dr. Cynthia Bailey.com. Web Mar 8, 2014.
http://www.drbaileyskincare.com/blog/what-causes-itching-in-the-middle-o...
Ellis, Carolyn D.O. Notalgia paresthetica: the unreachable itch. Dermatol Pract Concept. Jan 2013; 3(1): 3–6. Published online Jan 31, 2013. doi: 10.5826/dpc.0301a02.
http://www.ncbi.nlm.nih.gov/pmc/articles/PMC3663387
Michele is an R.N. freelance writer with a special interest in woman's healthcare and quality of care issues. Other articles by Michele are at www.helium.com/users/487540/show_articles
Edited by Jody Smith
Tags: