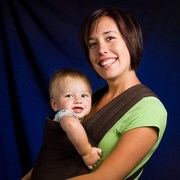 Travis Manley/PhotoSpin
When we were expecting our first child, my husband and I made it a weekend habit to frequent baby stores. I could spend hours at a time at Babies R Us, and did.
Who could blame me? They had more things to look at than I could even have imagined.
I tested out strollers, baby swings, and baby carriers. I sauntered through the baby furniture and contemplated bedding décor.
Of course, there was a restroom, as well as snack and drink machines. And when my swollen legs grew tired, I sat down and rocked in the comfort of the store's gliders in the furniture department.
I would carry around my copy of our baby registry, making notes and adding the things that I didn't realized that I wanted until I saw them in the fully stocked aisles. Our friends and family were quite generous and I adored every gift that I opened.
It wasn't until my second child that I realized which items were really useful, and which ones I could do without.
Every parent will have their favorite things. The following are three products that I used with each of my boys and couldn't imagine being without.
1. Baby Carrier
My youngest son is four and I still can't part with my baby carrier. It's not that I think that I will actually use it again, but it has too many great memories to simply give away.
From the moment that my babies came home from the hospital, I used it. As newborns, my babies would sleep anywhere that I went. Strangers were less likely to reach out to touch them while they was planted on my chest.
As my sons grew older, I liked it all the more because I could flip them around to see out. They were happy, and looked adorable as they moved with my every move, their chubby legs suspended in the air. I carried it with me in my car because I used it all the time.
2. Bouncy Seat
Babies just love these. Whether it is the vibration or the vibrant colored toys hanging on the front, it seemed to always be a favorite around our house. My boys also suffered from ear infections and the sitting position seemed to relieve the discomfort at times.
3. Cart Comforter
If you would have asked me 10 years ago what this was, I wouldn't have had a clue. But when my oldest son was just a few months old, I bought one and still have it.
I continue to use it with my 4-year-old on days that I need to get shopping done and can't get him to ride and snack, play a hand-held game, or read.
The cart comforter is like a blanket that fits into a shopping cart so your child can sit in the front, free from a germy, or boiling hot cart. The design that I found gathers at the sides so it can be adjusted around the cart in a fit perfect.
It has holes that snap down for leg openings. They also snap together so the cart comforter can double as blanket.
There are tabs on the top (same location as the cart handle) where you can attach toys (or as they get older, your keys).
I was reluctant to get one in the beginning because everything that I saw was either really brightly-colored or had an over-the-top baby design. My pattern is olive green on the bottom and the top is a plaid design in the same green, navy and tan. I still love this baby product.
There are so many more. These are just three of my favorites. What is the baby product that you just couldn't live without?
Edited by Jody Smith