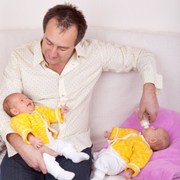 iStockphoto/Thinkstock
Last night I was reading through articles on EmpowHer.com and I found a title that caught my eye -- Hospitals Pressured To End Free Baby Formula.
It was not the first time that I had heard about this type of protest but as I read on, it made me just as angry.
As a woman that has given birth three times, I was familiar with the "parting gift" that a new mom receives upon discharge from the hospital. I find it ridiculous that consumer advocates want to take this away.
With my first son, breastfeeding was very difficult. We were both having a hard time.
The latch never seemed to be right. My breasts were sore. I was sleep-deprived.
My body was trying to heal and produce milk. My son was nursing (all the time) but I had no idea how much he was eating and he wasn't gaining any weight.
After my best attempt of breast feeding, our pediatrician suggested continuing to breastfeed but supplement with formula. It worked. He finally began to gain weight.
My husband would take turns feeding him a bottle and I finally got some rest. There were times that the formula from the hospital came in handy. I continued to breastfeed him for several weeks until I returned to work.
After having my third son, I was having trouble with an umbilical hernia and needed surgery. Although I had pumped milk, I didn't anticipate how sick I would be after the anesthesia. My son quickly went through the supply I pumped for him but I wasn't yet ready to breastfeed.
Panicked by a hungry, screaming newborn, my husband remembered the back-up formula that was tucked away in our cupboard. This time the hospital formula saved the day.
When the nurse handed me the bag that contained the formula, it did not sway my decision to breastfeed. I had already made my choice. What it did was give me peace of mind that I had a backup, if needed. And when you are a new parent, you want to be as prepared as possible.
Furthermore, the hospitals are not giving away a year's supply of formula, only a few containers per family. I found my hospital to be extremely supportive of breastfeeding and provided information and resources to help.
They seem to send their patients home with items that may be useful as a new parent. From snack bars, to lotions, to baby formula; some items you use, and some you don't.
Hospitals should not be discouraged from helping new mothers.
Edited by Jody Smith
Tags: