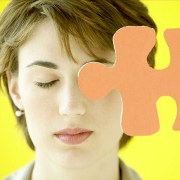 Photo: Getty Images
It's so hard to tell when the person you live with, your child, your parent or your co-worker is simply rubbing you the wrong way or confusing you. Are they simply difficult to get along with or is it all your fault? Are you taking things too personally because you are sensitive or is it deeper, more insidious than that?
Teasing out the differences between a glitchy communication situation and a real personality disorder is far from easy. Personality disorders are as complex as the human beings they affect and, while they may not appear to be as dramatic as schizophrenia or clinical depression, these disorders can indeed interfere with functioning successfully in every day life.
In fact, the American Psychiatric Association (otherwise known as the APA) defines a personality disorder in the following manner: "an enduring pattern of inner experience and behavior that deviates markedly from the expectations of the culture of the individual who exhibits it".
Not unlike mental illness, many personality disorders crop up and manifest during late adolescence and early adulthood, although some can be traced back to childhood.
So what are the types of personality disorders, the list of personality disorders according to the Diagnostic and Statistical Manual? Can you take a test to determine of you've got one?
(Actually, you can, and the link is here: http://similarminds.com/personality_disorder.html)
Personality disorders tend to have similarities and as such are grouped together according to their key characteristics.
People with personality disorders which fall into the Eccentric Characteristics category often appear to be extremely different, peculiar and strange to others.
These include:
1. Paranoid Personality Disorder – This person tends to interpret the actions of others as threatening.
2. Schizoid Personality Disorder – This individual is detached from social relationships, and shows a narrow range of emotional expression in various social settings.
3. Schizotypal Personality Disorder – This one is uncomfortable in close relationships, has thought or perceptual distortions, and peculiarities of behavior.
Next are the folks with up and down mood swings, impulsivity and erratic behavior, including acting out and acting without thinking through consequences.
These are:
1. Antisocial Personality Disorder – A person may demonstrate a pervasive disregard for, and violation of, the rights of others.
2. Borderline Personality Disorder – People who exhibit a generalized pattern of instability in interpersonal relationships, self-image, and observable emotions, and significant impulsiveness.
3. Histrionic Personality Disorder - These are folks who often display excessive emotionality and attention-seeking in various contexts. They tend to overreact to other people, and are often perceived as shallow and self-centered.
4. Narcissistic Personality Disorder – This person may have a grandiose view of themselves, a need for admiration, and a lack of empathy that begins by early adulthood and is present in various situations. These individuals are very demanding in their relationships.
Finally, the third group is, overall, anxious. They have more avoidant tendencies than the other two and their "fight or flight" response is triggered by many things others would find to be innocuous. The list of, and characteristics of these include:
1. Avoidant Personality Disorder – A person with this disorder is socially inhibited, feels inadequate, and is oversensitive to criticism.
2. Dependent Personality Disorder – These folks may show an extreme need to be taken care of that leads to fears of separation, and passive and clinging behavior.
3. Obsessive-Compulsive Personality Disorder – The individual is preoccupied with orderliness, perfectionism, and control at the expense of flexibility, openness, and efficiency.
Hope is essential. As with any affliction, there is always hope for improvement and change.
Cognitive behavior therapy, medication, traditional psychotherapy and group therapy can all be immensely beneficial. Talking with your health care provider can point you in the right direction for assistance, as well as following the links listed below.
Sources:
Personality disorders test on Similarminds.com retrieved from the internet September 16, 2011
http://similarminds.com/personality_disorder.html
The Critical Thinker retrieved from the internet September 16, 2011.
http://thecriticalthinker.wordpress.com/2008/10/10/list-of-personality-disorders
Mental Health America, Personality Disorders
Retreived from the internet September 16, 2011
http://www.nmha.org/go/information/get-info/personality-disorders
Reviewed September 16, 2011
by Michele Blacksberg RN
Edited by Jody Smith
Tags: