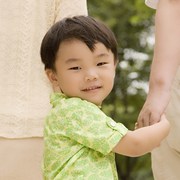 PS Productions/Photospin
No one can really prepare you for what it will be like when you become a parent. There are plenty of books to give you information on what to do when you are a parent.
But it would be near to impossible to describe how you will feel once you have children.
I can remember the exact moment when each of my boys were born. With each last exhausting push, I distinctly remember straining to see over my legs that were propped in the air, just to get a first glance at my child.
As I heard that first cry of my newborn, I was overcome with a feeling stronger than I could describe.
For that was the moment that I felt like my own heart had just left my body.
I had never felt happier or prouder than when the nurses brought me my clean, wrapped baby.
I looked down at his sweet face, tiny features and big curious eyes. I could not resist loosening the blanket to admire his perfect fingers.
And each time within minutes of meeting my new son, I would place my finger into his tiny palm and beam as he squeezed my pinky finger in his unbelievably strong little hand.
With children, every milestone is treasured. As my son grew older, he took his first wobbly steps. As his chubby legs supported his body, he balanced himself by grasping tightly onto both of my hands.
We would walk together, he building strength and confidence with every step and me walking over him with wide, slow steps.
I can remember each of my children on their first day of preschool and kindergarten. The way they clung tightly to my hand, filled with uncertainty of the new adventure that was ahead of them.
I have many memories of fun times and the places that we would go, parking lots that we would cross to get there, and parks and wide grassy areas that we would run through. All the time, hand in hand with my boys.
We were out of town last week and spending time with family. We were having a wonderful day and decided to go for lunch.
As we crossed a busy parking lot, I reached for my seven-year-old's hand. He did not argue but his grip was limp and weak. His fingers didn't fold lovingly around mine.
After a few seconds, he asked if he could just walk next to me because "holding hands was embarrassing."
At seven, he was too old to hold my hand.
I tried to disguise my hurt and agreed that if he stayed close to me, he wouldn't have to hold my hand.
Babies grow up. Growing with them is just part of the journey.
Edited by Jody Smith