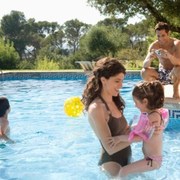 Jupiterimages/Goodshoot/Thinkstock
Summer for kids means lazy, hazy days with no homework. It means running and playing outside, in the backyard, at a park, or perhaps on a beach.
It means pool parties, sprinklers, and lots of "cool down" fun.
Unfortunately all that summer fun can result in bumps, burns, and bruises and can land kids in the emergency room ... or even worse.
To help parents remember the importance of several key aspects of summer safety, here are three tips from some mom bloggers who know a thing or two about keeping kids safe.
Tip 1: Be vigilant when kids are in or around water.
Karen Warren is a freelance writer, blogger and mother of two, a son and a daughter. She urges parents to always be on guard when their children are around water, no matter how old they are.
In a recent post, she wrote, "Although lifeguards are keeping an eye on children in and around the pool, they are not babysitters. Injuries or drowning can happen in seconds, so being vigilant is vital to water safety."
She also encourages parents to take preventative measures to avoid heat-related illness in children (or themselves) when spending long days outdoors. Staying hydrated is key, she wrote, so avoid sugary sodas and juices and opt for water instead.
Tip 2: Do not dive into shallow waters.
While this tip may seem obvious to some, it is nevertheless one that needs to be reiterated. Julie Kahle, mother of three daughters and an Atlanta-area blogger cringes each summer when she sees countless kids dive head first into shallow waters.
Her sister-in-law suffered a terrible fall in 2010 and was paralyzed from the waist down. She spent months in a rehabilitation hospital alongside many young victims who were paralyzed after diving into a pool. In a post on her blog, Julie listed other ways spinal cord injuries can happen:
• Diving into pools that do not have enough depth for diving
• Diving into the ocean or a lake without knowing a sandbar was underneath
• Diving off a pier into deceptively shallow waters
• Falling, jumping, or being thrown haphazardly into the water
Tip 3: Don't forget about UV protection for your eyes.
Most parents know kids need a high SPF sunscreen for their children to keep their delicate skin safe from ultraviolet rays, but mother, fashion blogger, and licensed eyewear consultant, Alena Redwine, urges parents to not forget about sun exposure to children's sensitive eyes.
On her blog she wrote that when children's eyes have excessive exposure to the sun's UV rays, cataracts and other eye problems can result later on in life. She believes sunglasses with a UV protection label are an easy solution to this issue!
Sources:
ATLEyeCatcher.com. Web. 11 June 2012. "Kids and Sunwear". http://atleyecatcher.com/kids-and-sunwear
ABalancingMama.blogspot.com. Web. Published June 11, 2011. "Annual Saftey Reminder!".
http://abalancingmama.blogspot.com/2011/06/annual-saftey-reminder.html
AllThingsLifestyle.net. Web. 11 June 2012. "Water safety for kids". http://allthingslifestyle.net/water-safety-for-kids/#.T9aRhrCmi2Y
Reviewed June 12, 2012
by Michele Blacksberg RN
Edited by Jody Smith