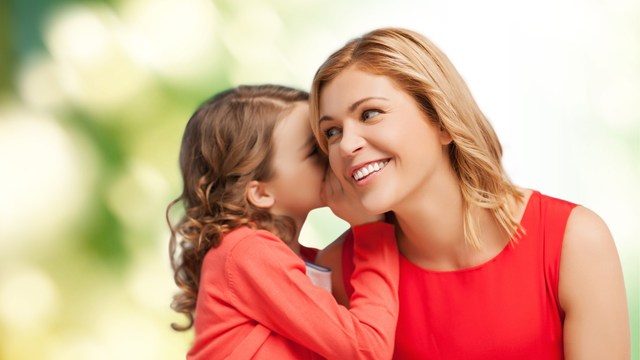 Lev Dolgachov/PhotoSpin
Many parents don't realize how even slight hearing loss can affect a child's performance in school. It is important to rule out any physical hearing loss when assessing a child's behavior and modifications to their school or daycare arrangements.
If there are no signs of hearing loss, then parents and educators know that the child can physically hear them, but may be dealing with mental distractions or noisy surroundings that may interfere with the child's attention to who is speaking to them.
A hearing test will help parents and educators determine whether there is a "selective" hearing impairment where the child ignores what's being said, or an actual hearing impairment influencing behavior.
The Role of Hearing and Speech
Two children out of every 100 under the age of 18 have some form of hearing loss and, according to the National Institutes of Health, "2 to 3 children out of 1,000 in the U.S. are born deaf or with some loss of hearing ..." (1, 2)
Hearing plays a critical role in speaking, not only in responding to questions or conversations with others, but also in correct word pronunciation, particularly for sounds that require different positioning of the tongue and teeth.
Children learn how to speak and pronounce words properly by imitating the sounds and words they hear from others. If your child has undetected and untreated hearing loss, he or she could be missing much of the conversations around them.
Not being able to hear and discern sounds well, means that your child will likely experience delayed speech/language development, and related social and academic difficulties. (1)
Signs of Hearing Loss or Difficulty in Children
Even though children can be born with hearing loss, symptoms may not appear until around the age of 2 when speech and related development delays become more apparent. (2)
Your child may have hearing loss if he or she:
• Does not respond to soft sounds even if there is no background noise
• Often asks you to repeat yourself
• Closely watches the face of person who is talking
• Does not understand what you say when there is background noise
• Sits close to the TV when the volume is alright for others, or turns up the volume
• Does not understand voices on the phone or frequently switches ears
• Has no startle reaction to loud sounds
• Has difficulty speaking, learning and paying attention
Treatments for Hearing Loss in Children
Modern technology can help with much of the hearing loss affecting children, but as with many things, the most effective treatment is early intervention.
The earlier the diagnosis, the earlier technologies and special education programs to aid in speech and language development can be implemented. This earlier intervention will give your child the best possible chance for success in school and in life. (1)
The best way to determine the level of hearing loss is to have an evaluation done by an audiologist. Next, a speech-language pathologist can measure your "child's specific speech and language skills and can recommend and/or provide remedial programs when they are needed." (5)
Really, you as the parent are the best person to observe the signs that your child may not be able to hear well. Do not be afraid to go with your instinct and talk to your family doctor. Don't hesitate to request further testing to get you and your child the help you need. (5)
Sources:
1) Hearing Loss in Children. Palo Alto Medical Foundation Sutter Health. Web. Accessed: May 29, 2014.
http://www.pamf.org/hearinghealth/facts/children.html
2) Help for Parents of Children With Hearing Loss. WebMD. Web. Accessed: May 29, 2014.
http://www.webmd.com/parenting/help-for-parents-hearing-impaired-children
3) Hearing loss – Symptoms. National Health Services. Web. Accessed: May 29, 2014.
http://www.nhs.uk/Conditions/Hearing-impairment/Pages/Symptoms.aspx
4) North Carolina Public Health Early Hearing Detection and Intervention Program. NCNewbornHearing.org. Web. Accessed: May 29, 2014.
http://www.ncnewbornhearing.org/LateOnset.htm
5) Causes of Hearing Loss in Children. American Speech-Language-Hearing Association. Web. Accessed: May 29, 2014.
http://www.asha.org/public/hearing/Causes-of-Hearing-Loss-in-Children
Reviewed June 2, 2014
by Michele Blacksberg RN
Edited by Jody Smith
Tags: