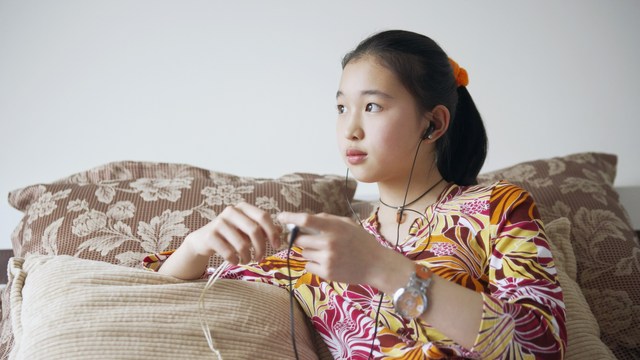 PS Productions/PhotoSpin
Listening to loud music, especially for extended periods of time, can cause hearing damage at a young age.
That was true for the current generation of adults who grew up listening to loud rock music. Researchers believe it will be a bigger problem for the "MP3 generation" who have the ability to listen to loud music anywhere they can wear their headphones or earbuds.
The U.S. Centers for Disease Control and Prevention (CDC) estimates that over 12 percent of children and teens ages 12-19 have permanent hearing loss caused by listening to loud sounds.
That adds up to approximately 5.2 million teenagers. An additional 26 million adults also have noise-induced hearing loss.
Why is the MP3 generation at higher risk than previous generations of music lovers? There are three basic factors for this:
Volume
We've all been around people listening to music on an MP3 player who don't realize or care that the volume is so loud the sound is literally leaking out of their headphones into the room.
The personal nature of MP3 players gives the impression that the listener can turn up the volume without bothering the other people in the vicinity, which can lead to even louder volumes.
When listening in an already-loud environment, for instance, while mowing grass or riding in an airplane, listeners -- and especially teens -- tend to crank up the volume so they can hear their music over the outside noise.
Most headphones max out at a volume of about 110 decibels, or rock concert level. Hearing loss can occur with exposure to sounds rated 85 decibels or more.
Duration
How long the sound occurs is another factor that contributes to noise-induced hearing loss. An extremely loud sound like an explosion can cause hearing loss in a very short length of time. A loud sound, such as blaring music, can cause damage when played over a longer amount of time.
MP3 players, like iPods, can hold thousands of songs and play them for hours before the batteries need to be recharged. This means many young people are listening non-stop to loud music for hours at a time.
Distance
How far away the sound is can also affect the risk of noise-induced hearing loss. A loud sound at closer range is more likely to cause damage than the same sound farther away.
Unlike the old-style boom box or stereo, MP3 players are personal devices that play music directly into the ear through headphones or earbuds. This means the inner ear is forced into very close proximity with the sound.
Our ability to hear relies on special hair cells inside the inner ear. These hairs catch sound waves and transmit them to the brain. If the hairs are damaged or killed by loud or continuous noise, including loud music, hearing loss is the result.
Once these hairs die, they never grow back. So hearing loss caused by loud noise can be permanent.
Hearing damage that is caused by high volume is directly related to the length of time the music is playing. Even at a relatively low volume, constant sound can damage the fine hair cells in the inner ear.
Try these tips to reduce the risk of noise-induced hearing loss:
• Turn down the volume
• Limit listening time
• Use headphones instead of earbuds. Headphones block more outside noise, which means you can turn the volume down more while still enjoying your music.
• If you have to use earbuds, use the 60/60 rule -- never turn the volume up past 60 percent, and limit listening time to 60 minutes per day.
• If you need music to fall asleep, chose soft songs and play them from a speaker beside the bed. Never fall asleep listening to your MP3 player. Even when you are sleeping, the constant sound can damage your hearing.
If you have questions about how to protect your hearing or if you are concerned that someone in your family may have hearing loss, talk to your health care provider or hearing specialist.
Sources:
Medline Plus. Hearing loss and music. Web. August 27, 2014.
http://www.nlm.nih.gov/medlineplus/ency/patientinstructions/000495.htm
Centers for Disease Control and Prevention. Noise-Induced Hearing Loss. Web. August 27, 2014.
http://www.cdc.gov/healthyyouth/noise
National Institutes on Deafness and Other Communication Disorders (NIDCD) Noise-Induced Hearing Loss. Web. August 27, 2014.
http://www.nidcd.nih.gov/health/hearing/pages/noise.aspx
Palo Alto Medical Foundation. Hearing Loss Related to MP3 & iPod Usage. Web. August 27, 2014.
http://www.pamf.org/teen/health/diseases/mp3hearing.html
WebMD. The MP3 Generation: At Risk for Hearing Loss? Tom Valeo. Web. August 27, 2014.
http://www.webmd.com/children/features/hearing-loss-mp3s
Reviewed August 28, 2014
by Michele Blacksberg RN
Edited by Jody Smith
Tags: