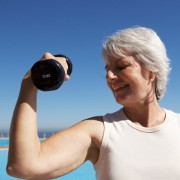 Photo: Getty Images
At what age do you need to be screened for osteoporosis? According to the American College of Preventive Medicine and the North American Menopause Society, women should at least start at 50 years old, or when they are post menopausal--whichever one comes first. It's important to consider risk factors such as family history, smoking, low body weight, low estrogen, history of skipped periods, frailty, a history of fractures without major trauma, steroid medications, certain diseases like rheumatoid arthritis, and loss of height. It is also important to be tested every two years.
Osteoporosis is a condition where the bone mineral density is decreased, the bone microarchitecture is fragile, and the bones appear more porous. The stage just before is called osteopenia. The biggest risk associated with osteoporosis is fractures and frailty.
Many health care providers recommend calcium to prevent against bone mineral loss, however calcium alone won't do it. It's important you take all of the necessary bone building nutrients including vitamin D, magnesium, boron, zinc, strontium, phosphorus, and vitamin K. Getting enough fresh vegetables, minimizing meat, eliminating soda and coffee, while quitting smoking will also greatly help your bones, and the younger you start the better!
Plus, you can't forget about exercise! Don't become a couch potato and remember to move that backside of yours for your entire life. Mix up the cardio with the weight training, try new classes, rent videos from the library, check out links online and get the entire family involved. It is also true that excessive exercise can lead to bone loss. Those of you who are routine marathoners, or triathaloners, or who exercise two or three times per day are at a greater risk.
Ask your health care provider for a bone density scan if you are post-menopausal or 50 years old.
References:
1. American College of Preventive Medicine (ACPM). Screening for osteoporosis in the adult U.S. population: ACPM position statement on preventive practice Am J Prev Med 2009 Apr;36(4):366-75.
2. The North American Menopause Society (NAMS). Management of osteoporosis in postmenopausal women: 2010 position statement of The North American Menopause Society. Menopause 2010 Jan-Feb;17(1):25-54.