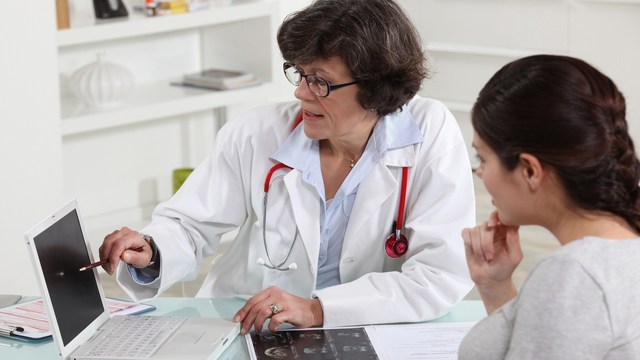 Auremar/PhotoSpin
Women whose ovaries stop normal functioning before they are 40 are at higher than normal risk of osteoporosis or brittle bones. A recent study at the National Institutes of Health Clinical Center in Bethesda, Maryland offers new hope that hormone replacement therapy can help reduce this risk.
Primary ovarian insufficiency (POI), which is also known as premature ovarian failure (POF), is a condition that results when a woman's ovaries stop producing enough estrogen. Estrogen is a hormone or chemical messenger that helps regulate a woman's menstrual cycle and sexual function.
Women with POI may have symptoms similar to women in menopause including irregular or missed periods, hot flashes and difficulty getting pregnant because eggs are not released regularly.
POI differs from menopause in that women with POI may still have irregular periods and may get pregnant. Women in menopause stop having periods and cannot get pregnant.
Osteoporosis is a serious complication of POI. The hormone estrogen helps the body keep bones strong by maintaining the density of bones. Healthy bone looks like a honeycomb made up of bone with small holes or spaces.
Without enough estrogen, the body is not able to replace bone tissue as fast as it is needed. This makes the spaces or holes in the honeycomb larger and causes bones to become brittle and break more easily.
POI may occur for no apparent reason, which is known as spontaneous POI, or it may be caused by another medical disease, surgery, chemotherapy or radiation. Spontaneous POI affects approximately 1 percent of women under the age of 40.
Women with POI have abnormally low levels of several reproductive hormones including estradiol, which is a type of estrogen, as well as testosterone. They also have measurably lower bone mineral density, which is a risk factor for osteoporosis.
Researchers at the Eunice Kennedy Shriver National Institute of Child Health and Human Development (NICHD) used bone density scans on the hip and lower spine of women with POI between the ages of 18 and 42.
The 145 women participating in the study were randomly divided into two groups. One group received three hormones -- estradiol, progestin and testosterone. The second group received the same estradiol and progestin but were given a placebo instead of testosterone.
The research team also measured the bone density of 70 women who had normal ovarian function and did not receive hormone treatments.
At the beginning of the study, the women with POI had significantly lower hip and spine bone mineral density compared to the healthy women. By the end of the study, the bone density of both groups of women who received hormones had increased to the same levels as the women without POI.
Dr. Lawrence M. Nelson, study author and investigator said, "Bone mineral density is an important measure of bone health. This study showed that not only could hormone treatment reduce the rate at which women with POI lose bone mineral density, but it could actually restore bone density to normal levels."
Until this study, research into the effects of hormone replacement therapy on bone density had focused on women who were already in menopause.
"This study provides important evidence that hormone replacement therapy with an appropriate dose of estradiol delivered via a skin patch combined with oral progestin can improve bone density to normal in women with primary ovarian insufficiency," said lead author Dr. Vaishali B. Popat, an endocrinologist who helped conduct this study at NIH.
If you have irregular or missing periods or have known risk factors for osteoporosis, talk to your health care provider to find out what treatment is available to protect your bones.
Sources:
National Institutes of Health. Hormone treatment restores bone density for young women with menopause-like condition. Web. June 16, 2014.
http://www.nih.gov/news/health/jun2014/nichd-09.htm
Mayo Clinic. Premature ovarian failure. Web. June 16, 2014.
http://www.mayoclinic.org/diseases-conditions/premature-ovarian-failure/...
National Institutes of Health. Primary Ovarian Insufficiency (POI): Overview. Web. June 16, 2014.
https://www.nichd.nih.gov/health/topics/POI/Pages/default.aspx
National Osteoporosis Foundation. What is Osteoporosis? Web. June 16, 2014.
http://nof.org/learn
Reviewed June 18, 2014
by Michele Blacksberg RN
Edited by Jody Smith