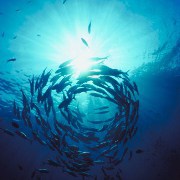 Photo: Getty Images
Almost every week, omega-3 fatty acids are being ascribed new health benefits. This week there is research which claims that these fatty acids can significantly reduce signs and symptoms of osteoarthritis.
Osteoarthritis affects millions of Americans. The disorder usually affects the large joints of the body and is caused when the cartilage in the joints wears away. Eventually the underlying bones then become thick, leading to stiffness and pain.
The cost in terms of disability from osteoarthritis is in the billions of dollars. So far, no treatment has been shown to prevent or delay the progression of the disease. The majority of treatments today only focus on pain control.
This latest research done at the University of Bristol shows that when omega-3 fatty acids are fed to guinea pigs, which are naturally prone to developing osteoarthritis, the incidence was reduced by 50 percent compared to a standard diet. The research confirms anecdotal reports and the "old wives" tales about the benefits of cod liver oil for joint disease. (1)
The research led by Dr John Tarlton, from the Bristol School of Veterinary Sciences revealed that animals who consumed omega-3 fatty acids also had much less degradation of collagen and cartilage -- which is vital in preventing osteoarthritis.
Dr. John Tarlton added that these same omega-3 fatty acids might also help humans if the supplements were taken on a regular basis for a long period. Based on the evidence in guinea pigs, these researchers now advocate use of omega-3 fatty acids for human disease.
How omega-3 fatty acids prevent joint disease and cartilage damage is not known but could potentially play a role in the treatment of osteoarthritis.
As to what supplements to take, Dr. Tarlton says fish oil is more effective than flax seed oil, but vegetarians may take flax seed oil. Since most diets lack omega-3 fatty acids and instead contain 30 times too much omega-6 acids, taking omega-3 fatty acids may address this imbalance and be of positive benefit.
So should consumers start to eats gobs of omega-3 fatty acids to prevent osteoarthritis?
Millions of people have been taking omega-3 fatty acids for nearly three decades. In addition, populations in Scandinavia and those eating primarily seafood, still continue to develop joint disease. This indicates that simply taking omega-3 fatty acids is not the answer. (2)
The only way to know if the omega-3 fatty acids are for real is to conduct proper clinical trials.
In the meantime, in my opinion, it is safe to take omega-3 fatty acids but one should also try to eat healthy, reduce weight and exercise regularly. Relying too much on any one health supplement to prevent disease only brings disappointment.
Sources
1.Knott et al. Regulation of osteoarthritis by omega-3 (n-3) polyunsaturated fatty acids in a naturally occurring model of disease.
Abstract: http://www.ncbi.nlm.nih.gov/pubmed/21723952
2.Pirotta. M. arthritis disease- the use of complimentary therapies.
Abstract: http://www.ncbi.nlm.nih.gov/pubmed/20877766
3. Osteoarthritis Fact Sheet. The Arthritis Foundation. Web. 20 Oct. 2011.
http://www.arthritis.org/media/newsroom/media-kits/Osteoarthritis_fact_sheet.pdf
Reviewed October 20, 2011
by Michele Blacksberg RN
Edited by Jody Smith
Tags: