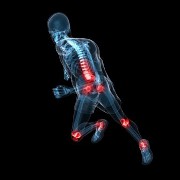 Photo: Getty Images
What is glucosamine?
Glucosamine is the building block for a molecule called glycosaminoglycan. The body uses this molecule to make and repair cartilage. Cartilage is tough connective tissue that acts as a cushion on the ends of bones.
Osteoarthritis (OA) is a disease that attacks the joints by damaging the protective cartilage. When the cartilage becomes thin or weak, the ends of the bones can rub together when the joint moves, which causes pain and swelling. Loss of cartilage can also affect the shape of a joint which can cause a limp or may cause the fingers to lose strength.
How glucosamine works
Glucosamine occurs naturally in the body. It helps stimulate the growth of new cartilage to repair cartilage that is damaged or worn. Glucosamine also helps cartilage absorb water which keeps the cartilage soft and improves the function of joints. As a supplement, glucosamine is believed to slow the process of cartilage damage that occurs naturally over time. It is also thought to reduce pain associated with OA and to help improve the function and mobility of joints.
Glucosamine is often combined with a similar supplement called chondroitin. Chondroitin is also a building block of cartilage that is found naturally in the body. Studies have shown that glucosamine supplements work better when combined with chondroitin than they do alone. But there is no conclusive proof that glucosamine taken as a supplement actually benefits cartilage in joints by helping slow deterioration or by repairing damaged cartilage.
Glucosamine chondroitin supplements are also believed to help relieve the pain associated with osteoarthritis. Studies do not confirm a noticeable reduction in pain for people with mild pain. But people with moderate to severe pain felt relief from their pain when taking glucosamine chondroitin supplements.
Adding glucosamine
There are no food sources of glucosamine. Glucosamine supplements are available as tablets, capsules, and powders that are typically made from chitin, which is the hard outer shell of shrimp, lobsters, and crabs. There are some forms of glucosamine made from other substances that may be appropriate for people who are allergic to shellfish. Benefits from glucosamine may take up to a month to appear.
Glucosamine is often combined with chondroitin in supplements. A standard daily dose of glucosamine is 1,500 mg. Manganese is often also included with glucosamine and chondroitin in supplements. Be careful to read the manganese dose if you chose a supplement that contains this mineral. The safe allowance of manganese is 11 mg per day. Some supplements contain too much manganese, or contain 11 mg of manganese but require that you take them multiple times per day to reach the daily allowance of glucosamine or chondroitin.
Glucosamine warnings
• Shellfish warning – Glucosamine is often made from the shells of crustaceans including crabs, shrimp, and lobsters. Anyone who is allergic to shellfish should not use these glucosamine supplements.
• Side effects – Glucosamine can cause a variety of symptoms including upset stomach, nausea, heartburn, diarrhea, and constipation. It can also affect blood sugar levels, cholesterol, triglyceride levels, and blood pressure.
Sources:
About.com: Othopedics
University of Maryland Medical Center
American Academy of Orthopaedic Surgeons
Arthritis Foundation