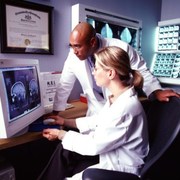 John Foxx/Thinkstock
Multiple sclerosis is an autoimmune disease of the central nervous system. Balo's disease, or concentric sclerosis, is an unusual variant that tends to progress rapidly.
The American Autoimmune Related Diseases Association web site reports that symptoms include headache, gradual paralysis, seizure, involuntary muscle spasm, and loss of cognitive function.
Other names for this condition include encephalitis periaxialisis concentrica, and leukoencephalitis periaxalis concentric.
The term "concentric" refers to the appearance of magnetic resonance images (MRI) of the brain. Steffi F. Dreha-Kulaczewski of Georg August University in Germany and colleagues reported an imaging study of a female patient who was 13.8 years old when her symptoms first appeared. The white matter of the patient's brain showed "large concentric ring-like or whorled-appearing lesions."
The gray matter of the brain is composed primarily of the bodies of nerve cells called neurons. Each neuron typically has a long extension called an axon, along with many shorter extensions called dendrites.
Sebastian Seung of MIT described the axons and dendrites as the wiring of the brain. The white matter is composed primarily of axons. They are normally covered with a protective sheath called myelin.
Damage to the myelin causes scar tissue called sclerosis. The National Multiple Sclerosis Society explains that nerve impulses are distorted or interrupted by sclerosis, causing symptoms.
In Balo's disease, the sclerosis occurs in bands, leaving layers of tissue undamaged between bands. Dreha-Kulaczewski explained that this pattern of demyelinated white matter produces the images seen on MRI.
The onset of Balo's disease can look like a stroke, according to Ellen M. Mowry of the University of Pennsylvania and colleagues. "BCS [Balo's concentric sclerosis] can affect any area of the brain, optic chiasm, or spinal cord, so it could potentially cause almost any neurological symptom," Mowry reported.
Treatment options include steroids and mitoxantrone, which is also used as a cancer chemotherapy agent. Mowry recommended improved awareness of this condition so that patients can get correct diagnosis and treatment.
References:
American Autoimmune Related Diseases Association. Patient Information. Balo Disease. Web. April 1, 2012.
http://www.aarda.org/patient_information.php
Dreha-Kulaczewski SF et al, "Serial proton MR spectroscopy and diffusion tensor imaging in infantile Balo's concentric sclerosis", Neuroradiology. 2009 Feb; 51(2): 113-21.
http://www.ncbi.nlm.nih.gov/pubmed/18958461.1
Seung S, Connectome: How the Brain's Wiring Makes Us Who We Are, Houghton Mifflin Harcourt Publishing, 2012.
http://connectomethebook.com/?page_id=40
National Multiple Sclerosis Society. Web. April 1, 2012.
http://www.nationalmssociety.org/about-multiple-sclerosis/index.aspx
Mowry EM et al, "Balo's concentric sclerosis presenting as a stroke-like syndrome", Nat Clin Pract Neurol. 2007 Jun; 3(6): 349-54.
http://www.nature.com/nrneurol/journal/v3/n6/pdf/ncpneuro0522.pdf
PubMed abstract: http://www.ncbi.nlm.nih.gov/pubmed/17549061
Reviewed April 18, 2012
by Michele Blacksberg RN
Edited by Jody Smith
Tags: