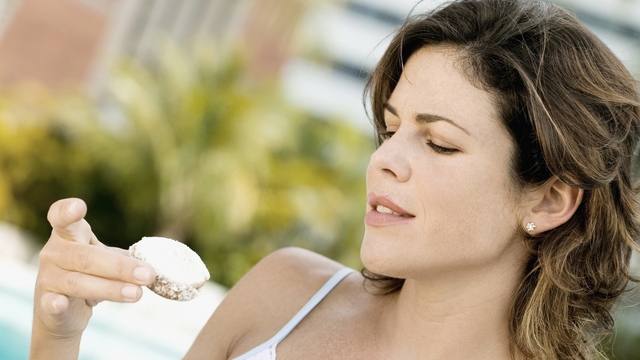 PS Productions/PhotoSpin
Many people understand that eating foods with high amounts of sugar, unhealthy fats and carbs can lead to weight gain and possibly an upset stomach.
However, food not only impacts the waistline – the mind can suffer the consequences of an unhealthy diet as well.
For instance, sugar can lead to the secretion of insulin in the body, which can then lead to hormonal imbalances if the insulin level is too high, according to Discovery.
Sugar intake can also lead to a surge of energy. But the body then crashes, sometimes leading to more hormonal imbalances, which can then cause mood swings.
JJ Virgin, a celebrity nutrition and fitness expert and author of the newly released Sugar Impact Diet, spoke about sugar's impact on the body and mind during the Anxiety Summit.
The Anxiety Summit is an online event running through November 17, 2014. It includes more than 20 speakers who talk about food's impact on anxiety.
Virgin said that many people start her weight loss program to lose weight without realizing how much depression, moodiness, stress and anxiety are also associated with sugar addiction.
"When you're under stress ... your blood sugar goes crazy," Virgin said in the summit interview.
She went on to explain that while your blood sugar level rises, serotonin levels also lower and the gut becomes more permeable, which leads to digestive issues (especially with dairy and gluten products).
Sleep can be negatively impacted as well, and if you're not getting enough sleep that leads to hunger pangs, she went on to explain.
"When you look at what stress does, stress makes you crave more sugar, hungrier overall, and then tired, so you ... want things that are quick, energetic pick-me-ups and unstable blood sugar," Virgin said.
Virgin believes sugar is the number one drug of choice at all ages. And sugar is more addictive than morphine, and as addictive as cocaine.
Sugar plays a role in every major disease, including diabetes, dementia, cancer, heart disease and obesity. This is most likely because sugar drives inflammation. Sugar also negatively impacts the gut microbiome.
Gluten is also under fire right now, as many people report sensitivities to it. However, others claim going on a gluten-free diet without having celiac disease is just a fad.
People with celiac disease, a condition that causes the body to basically attack itself whenever gluten is consumed, sometimes suffer from anxiety as a result, according to the National Foundation for Celiac Awareness.
Some anxiety can be a result of nutritional deficiencies experienced after gluten consumption, and at least some anxiety is alleviated by going on a gluten-free diet (at least for people with celiac disease).
Dr. Tom O'Bryan, the host of The Gluten Summit – A Grain of Truth, and a speaker at the Anxiety Summit, believes gluten can lead to anxiety.
"The gluten family of proteins that is in wheat, rye and barley are the toxic ones for all humans," he said in the summit.
O'Bryan also stated that people can have different levels of problems with gluten.
Some of these are celiac disease, non-celiac gluten sensitivity, gluten allergy, nutritional deficiencies from malabsorption (leading to other health issues) and a sensitivity to FODMAPs (fermentable oligosaccharides, disaccharides, monosaccharides and polyols).
He mentioned that at these different levels of gluten problems, people may suffer from mental health issues like depression, anxiety, fatigue and even social phobia.
Even after taking gluten out of the diet, some children may get teased for having to eat gluten-free foods, and that can take a toll and eventually trigger a social phobia.
"It's characterized by a fear of performance, an excessive fear of scrutiny, a fear of acting in an embarrassing way, that they just don't want to be looked at or seen, so they hide," O'Bryan said.
Have you noticed any foods that impact your mood or have worsened your anxiety or depression? Please share your story in the Comments section.
Sources:
Scott, Trudy. The Anxiety Summit. Web. November 5, 2014.
http://www.theanxietysummit.com
Virgin, JJ. Audio clip interview (via Anxiety Summit). November 5, 2014.
http://jjvirgin.com
Discovery Fit & Health Blogs. 6 Surprising Ways Your Diet Can Impact Your Mood. Web. November 14, 2014.
http://blogs.discovery.com/dfh-sara-novak/2012/02/6-ways-your-diet-can-impact-your-mood.html
National Foundation for Celiac Awareness. Celiac Disease and Mental Health: Anxiety. Web. November 14, 2014.
http://www.celiaccentral.org/mental-health/Anxiety/614
O'Bryan, Tom. Un-edited transcript (via Anxiety Summit). November 14, 2014.
http://thedr.com/about-thedr-com
Reviewed November 14, 2014
by Michele Blacksberg RN
Edited by Jody Smith