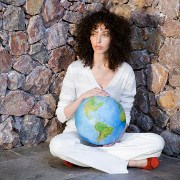 Photo: Getty Images
Living with a chronic health condition like HIV and/or AIDS can be physically demanding and even limiting, but there are also mental health aspects to consider. Experts shed light onto how mental health is affected by living with this kind of chronic health condition.
First, to get a basic idea of how many people are affected just by the chronic illness HIV in the United States, the Centers for Disease Control website states that it is estimated that around 56,000 people were infected with HIV.
This virus can develop into AIDS, which is a final and severe stage of HIV. This condition can make it difficult for the body's immune system to function properly.
There is no cure for HIV or AIDS, though medication and treatments can help people live a healthier life. Common ways to spread HIV are through unprotected sex, sharing needles and being born to a mother with HIV.
Frank Sileo, a licensed psychologist who also has a chronic health condition called Crohn's disease, has worked with patients who have HIV.
"In my experience, some common mental health conditions associated with people with chronic illness such as HIV are depression and anxiety," Sileo said in an email. "Illness is like dropping a pebble in a still pond with the rippling effects reaching family, friends, job etc."
Despite the psychological effects some chronic illnesses can lead to, some people tend to ignore warning signs.
"I believe that when people are diagnosed with a chronic illness, they take depression and anxiety as natural 'side effects' of having an illness, yet do nothing about it," Sileo said. "This is not the correct approach to take. HIV is an autoimmune disease. Depression taps our immune functioning. So if we do not take care of the depression, we are further depleting our body's necessary resources to fight illness."
If you think about it, any type of illness, especially one that is stigmatized, can cause some anxiety, because it's uncertain how the present and future will be impacted. Sileo said some concerns that could lead to anxiety include how long life will be, how others will judge, how the illness could impact work ability, how to let others know what's going on, how medication will affect everyday life and how to approach sex.
Here is some advice from Sileo on how to live with a chronic illness like HIV and cope with mental health aspects:
1) "Knowledge is power. Get the most out of your medical team. Learn as much as you can about your illness."
2) "Be careful of the web. Anyone can put up a website. You want accurate information."
3) "You want to take a 'buddy' to your medical appointments (four ears are better than two)."
4) "You want to keep track of your medical records. Keep copies of everything. Fax questions to your medical doctors before your appointments so that you can think things through beforehand and get the most out of the time with your doctor."
5) "Sometimes you need to take a holiday from talking about the illness with others or searching the web. It can be overwhelming at times."
6) "Learn to say no to commitments and take time for yourself."
7) "Build a support network through friends and family or a professionally run or other support group. Get in touch with national and local organizations. Realize you are not alone!"
Ken Howard, a licensed psychotherapist in California, specializes in HIV mental health and also has lived with HIV and AIDS for 21 years.
"It is very common in my practice to see depression in relation to HIV," Howard said in an email. "When a person is newly-diagnosed, there is almost always a sense of loss -- loss of 'taking a long life for granted,' loss of the 'luxury' of assuming good health indefinitely, loss of a sense of self in having a 'stigmatized' disease, loss of confidence in sex and dating, etc."
However, it's important to not feel hopeless, because time and counseling can help the mental health issues associated with this chronic illness.
"More rarely, living with HIV can be related to obsessive-compulsive disorder, about a fear of infecting others (despite reasonable safer sex practices)," Howard said. Also, chronic health conditions can create general stress in your life because of the challenges associated with relieving symptoms and staying healthy.
Howard suggests seeking out HIV specialists, even in therapy.
"Don't let ignorant therapists give you misinformation ... such as suggesting that an HIV-positive person can't have a relationship (including a sexual one) with an HIV-negative person," Howard said. "I've been married to my husband since 2008 in California ... and we've been together for over 9 years. He is HIV-negative, and has been the whole time ... you have to make sure a therapist you work with isn't perpetuating HIV-phobic myths."
Sources:
Centers for Disease Control and Prevention. Basic Information about HIV and AIDS – Topics – CDC HIV/AIDS. Basic Information about HIV and AIDS. Web. September 20, 2011.
http://www.cdc.gov/hiv/topics/basic/index.htm
Sileo, Frank. Email interview. September 20, 2011.
Howard, Ken. Email interview. September 20, 2011.
Reviewed September 21, 2011
by Michele Blacksberg RN
Edited by Jody Smith