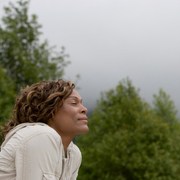 Noel Hendrickson/Photodisc/Thinkstock
It's been ten years since the Women's Health Initiative (WHI) study suggested that there was a higher risk of breast cancer, stroke, heart attack and blood clots among women who took estrogen.

This year's annual meeting of the North American Menopause Society (NAMS) had a report that updated those findings and the results should be encouraging to women in and near menopause.

The original WHI study looked at estrogen treatment in women who were aged 60 to 79, much older than women who are entering menopause. The new study called KEEPS (KRONOS Early Estrogen Prevention Study) looked at the impact of taking estrogen on women who were just entering menopause -- on average about age 52.

The results should make women feel much safer. Women who took either a dose of the oral estrogen Premarin at a dose of 0.45 mg daily or an estrogen skin patch (Transdermal) at a dose of 0.05mg were compared to women of the same age who took a placebo.
The women on estrogen were no more likely to have a stroke or heart attack than the women who took no estrogen. While it didn't improve things, it didn't make them less safe. It seems that if women get started taking their estrogen early in the transition from their reproductive years towards menopause, they were not adding risk to their health.
Other good news is that estrogen started at that time seemed to be helpful in sexual function improving arousal, desire, lubrication and orgasm. Transdermal estrogen takers had even better results with sexual improvement that those taking oral estrogen.
This is all great news for women. The age it estrogen is started is a very important part of your decision. To help you with understanding estrogen,
click here for a free ebook on how to take estrogen
.
Edited by Jody Smith