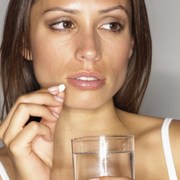 Brand X Pictures/Thinkstock
Aspirin has been found to be beneficial in reducing the risk of various cancers.
A recent study, published in the journal Cancer, evaluated data from the Women's Health Initiative (WHI) Observational Study (OS).
It was found that white postmenopausal women who took aspirin had a reduced risk of melanoma.
The study focused on 59,806 postmenopausal Caucasian women who were 50-79 years old.
The women were divided into three groups. One group of 35,529 women did not use aspirin or NSAIDs (non-steroid anti-inflammatory drugs), 15,089 in another group used both aspirin and NSAIDs, and 9188 in the third group used NSAIDs alone.
The women were questioned about their lifestyle habits, including sun exposure. Statistics were used to control for other risk factors such as low use of sunscreen or tanning.
The women answered followup questionnaires yearly for 12 years, according to the New York Times.
The women who reported taking aspirin at least twice a week had a 21 percent lower risk than the women who did not.
The researchers also found that the protective effects of taking aspirin increased over time.
Women who took aspirin regularly over four years had an 11 percent reduced risk. Those who took aspirin for five years or more had a 30 percent lower risk of developing melanoma, according to Times Heartland.
There was no decrease in risk for women who used NSAIDs alone, reported Medcape Medical News.
It is believed that the benefit of taking aspirin lies in its ability to reduce inflammation. Aspirin may calm the actions of cells and prevent abnormal growth and tumor formation.
"Aspirin and NSAIDs (non-steroidal, non-aspirin anti-inflammatory drugs) have been associated with a decrease risk of a variety of cancers," Jean Y Tang MD PhD, head researcher from Stanford University School of Medicine told Medscape Medical News.
This study is one of the largest to test whether aspirin, which is an inexpensive, readily available medication, could play a role in the prevention of melanoma.
However, there are limitations to the study that need to be considered.
This was an observational study, meaning data was collected without any treatments or activities set up by the researchers beforehand. The researcher only evaluated the results. The study also only tested older Caucasian women.
Further research would be needed to directly test prospectively what happens when some people take aspirin and some do not, measuring their incidence of melanoma occurrence over time.
Risks versus benefits of aspirin-related gastric irritation and bleeding would need to be considered as well.
Until then, it is recommended that people continue with other skin cancer reduction behaviors. Avoid tanning beds, wear sunscreen with an SPF of at least 15, and try to avoid sun during the hottest times of the day.
Sources:
Can Aspirin Keep Skin Cancer At Bay? Times Healthland. Retrieved Mar. 24, 2013.
http://healthland.time.com/2013/03/11/can-aspirin-keep-skin-cancer-at-bay/
Aspirin May Reduce Melanoma Risk. Retrieved Mar. 24, 2013.
http://www.medscape.com/viewarticle/780647?nlid=29323_1587&src=wnl_edit_...
Aspirin Tied to Lower Melanoma Risk in Women. New York Times. Retrieved Mar. 24, 2013.
http://well.blogs.nytimes.com/2013/03/15/aspirin-tied-to-lower-melanoma-...
Gamba, Christina A. BA. et al. Aspirin is associated with lower melanoma risk among postmenopausal Caucasian women. Cancer. doi: 10.1002/cncr.27817. Abstract:
http://onlinelibrary.wiley.com/doi/10.1002/cncr.27817/abstract
Michele is an R.N. freelance writer with a special interest in woman's healthcare and quality of care issues. Other articles by Michele are at www.helium.com/users/487540/show_articles
Edited by Jody Smith
Tags: