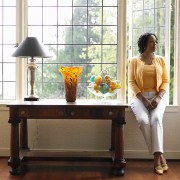 Photo: Getty Images
You have heard of the disease, and may even have heard of someone who has it. But do you really know what it is, or how it affects those suffering from it?
According to the Lupus Foundation of America website, "Lupus is a chronic inflammatory disease that can affect various parts of the body, especially the skin, joints, blood, and kidneys." It is unclear how or why it develops, but researchers think it could be a gene a person is born with that later is triggered.
Often sidelined as a "woman's" disease, advancements in the study of lupus have been few and far between, and no new drugs had been developed for 50 years.
Symptoms can include:
• extreme fatigue (tiredness)
• headaches
• painful or swollen joints
• fever
• anemia (low numbers of red blood cells or hemoglobin, or low total blood volume)
• swelling (edema) in feet, legs, hands, and/or around eyes
• pain in chest on deep breathing (pleurisy)
• butterfly-shaped rash across cheeks and nose
• sun- or light-sensitivity (photosensitivity)
• hair loss
• abnormal blood clotting
• fingers turning white and/or blue when cold (Raynaud's phenomenon)
• mouth or nose ulcers
Lupus can be hard to diagnose, because depending on which type of lupus a person has, he or she could have different and intermittent symptoms. Symptoms also can inaccurately point to other conditions.
Do you have a question about lupus? Check out EmpowHER's pages. Sign-up, post a question, share your story, connect with other women in our groups and community, and feel EmpowHERed!
Resource:
Lupus Foundation of America: Understanding Lupus
EmpowHER.com: Lupus Research Accelerates
Reviewed May 19, 2011
Edited by Alison Stanton
Christine Jeffries is a writer/editor for work and at heart, and lives in a home of testosterone with her husband and two sons. Christine is interested in women's health and promoting strong women.