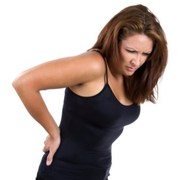 Photo: Getty Images
A kidney infection, or pyelonephritis, commonly occurs after an untreated bladder infection. Bacteria from a bladder infection can spread to one or both of your kidneys and cause a kidney infection. A kidney infection results when your kidney or kidneys become irritated and inflamed.
One of the key symptoms of a kidney infection is pain. Speaking from personal experience, the pain can range from mild to severe. In my case, the pain felt like mid-back pain which became worse over time.
The pain also seemed to move around from my mid-back to my side. After two days, I was literally hunched over in pain. I contacted my doctor who diagnosed the kidney infection with a urine culture.
Medical experts classify a kidney infection as a specific urinary tract infection (UTI).
The American Urological Association Foundation (AUAF) said, "UTIs are responsible for approximately eight million visits to doctors' offices each year in the United States. Approximately 40 percent of women and 12 percent of men will experience at least one UTI during their lifetime. Approximately 20 percent of all UTIs occur in men. "
According to the National Institute of Diabetes and Digestive and Kidney Diseases (NIDDK), National Institutes of Health (NIH) other causes of a kidney infection include:
• Defects or abnormalities in the urinary tract that block the flow of urine
• Surgery on the urinary tract
• Conditions such as prostate enlargement and kidney stones that prevent the efficient flow of urine from the bladder
• Use of a catheter to drain urine from the bladder
• Use of a cystoscope to examine the bladder and urethra
• Infection in the bladder
The New York Times, NIDDK and NIH websites revealed the following signs and symptoms of a kidney infection:
• Back pain under the lower ribs
• Pain can also be located in the groin area or be flank pain
• Severe abdominal pain (occurs occasionally)
• Fever higher than 102 degrees Fahrenheit and last more than two days
• An overall sick feeling
• Fatigue
• Nausea
• Vomiting
• Chills with shaking
• Urgent and frequent urination
• Painful or burning urination
• Pus and blood in the urine
• Cloudy or abnormal urine color
• Foul or strong urine odor
• Need to urinate at night (nocturia)
• Flushed or reddened skin
• Moist skin (diaphoresis)
• Warm skin
If you are suffering from one or more of the above kidney infection symptoms, contact your health care professional immediately.
Kidney infections are treated with 10-14 days of antibiotics. Your doctor will request a urinalysis to confirm a kidney infection.
References:
Bladder Basics. The American Urological Association Foundation . Retrieved January 12, 2012, from http://www.urologyhealth.org/content/moreinfo/bladderbasics.pdf
Kidney Infection. CNN. Retrieved January 12, 2012, from http://www.cnn.com/HEALTH/library/kidney-infection/DS00593.html
Pyelonephritis (Kidney Infection) in Adults - National Kidney and Urologic Diseases Information Clearinghouse. Home Page - National Kidney and Urologic Diseases Information Clearinghouse. Retrieved January 12, 2012, from http://kidney.niddk.nih.gov/kudiseases/pubs/pyelonephritis
Pyelonephritis - Symptoms, Diagnosis, Treatment of Pyelonephritis - NY Times Health Information. Health News - The New York Times. Retrieved January 12, 2012, from
http://health.nytimes.com/health/guides/disease/kidney-infection-pyelonephritis/overview.html
Reviewed January 12, 2012
by Michele Blacksberg RN
Edited by Jody Smith