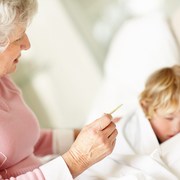 MonkeyBusiness Images/PhotoSpin
Although September typically marks the beginning of the annual flu season, January and February are often the most severe months. This year is no exception.
This season's H3N2 strain of influenza virus has been especially brutal in terms of the number of people infected and the severity of symptoms, the United States Centers for Disease Control and Prevention (CDC) reports.
Forty-eight states reported widespread geographic influenza activity for the week of January 6-12, 2013, the latest figures available.
The flu has been particularly life-threatening for two groups: the very young and the elderly.
For children, the week ending Jan. 12 was the deadliest yet, with nine more dying from flu-related illness, bringing the season's pediatric death toll to 29. Children ages 5 and younger are at especially high risk of severe complications.
Tom Frieden, director of the CDC said that more than half of the children who died had not been vaccinated and most had underlying health problems that made them more susceptible.
But it's the elderly who are taking the brunt. The highest proportion of influenza-associated hospitalizations and deaths are occurring in people 65 years of age and older.
The CDC reports hospitalizations for flu continue to be highest for this age group, accounting for nearly half (49.6 percent) of the 5,249 influenza-associated hospitalizations that have been reported this season.
"Seasons when H3N2 viruses are predominant tend to be associated with greater severity in terms of more hospitalizations and deaths," according to the CDC's weekly FluView Report.
People who are living with other health conditions are especially vulnerable to complications from the flu. These include pregnant women, and people with:
asthma
cancer, or have had cancer in the past
diabetes
heart disease
HIV/AIDS
who have had a stroke
These people are more likely to get flu complications that could result in hospitalization or death, the CDC reports.
The first line of defense for everyone is taking time to get a flu shot, and it's not too late to still get one. This is especially prudent advice for people with a compromised immune system, or at high risk, such as cancer or a history of cancer or those who live with or care for cancer patients and survivors.
People with cancer should NOT receive the nasal spray vaccine, the CDC warns. The flu shot is made up of inactivated (killed) viruses, and the nasal spray vaccines are made up of live viruses.
The flu shot is safer for those with a weakened immune system. If you get the flu, anti-viral medications are available by prescription through your doctor to help lessen the symptoms.
Follow these good health habits to lessen your chances of getting sick and reduce the spread of flu:
Cover your nose and mouth with a tissue when you cough or sneeze. Throw the tissue in the trash immediately after use.
Wash your hands often with soap and water. If soap and water are not available, use an alcohol-based hand sanitizer.
Avoid touching your eyes, nose, or mouth; germs spread this way.
Try to stay at least six feet away from people who appear ill.
If you are sick with flu-like illness, stay at home at least 24 hours after your fever is gone, except to get medical care or for other necessities. Your fever should be gone without the use of a fever-reducing medicine. Keep away from others as much as possible to keep from making them sick.
Follow public health advice regarding school closures, avoiding crowds, and other social distancing measures.

Be prepared in case you get sick with a supply of over-the-counter medicines, alcohol-based hand sanitizer and tissues.
More healthy tips are available through the CDC website at: http://www.cdc.gov/flu/protect/habits/
Lynette Summerill is an award-winning writer and Scuba enthusiast who lives in San Diego with her husband and two beach loving dogs. Besides writing about cancer-related issues for EmpowHER, her work has been seen in newspapers and magazines around the world.
Sources:
CDC Weekly FluView Report. Access online at:
http://www.cdc.gov/flu/weekly/summary.htm
Flu Season 2012-13 By the numbers: How bad is it? Sydney Lumpkin. ABC News. 10 Jan. 2013. Access at:
http://abcnews.go.com/blogs/health/2013/01/10/flu-season-2012-13-by-the-numbers-how-bad-is-it
Reviewed January 22, 2013
by Michele Blacksberg RN
Edited by Jody Smith