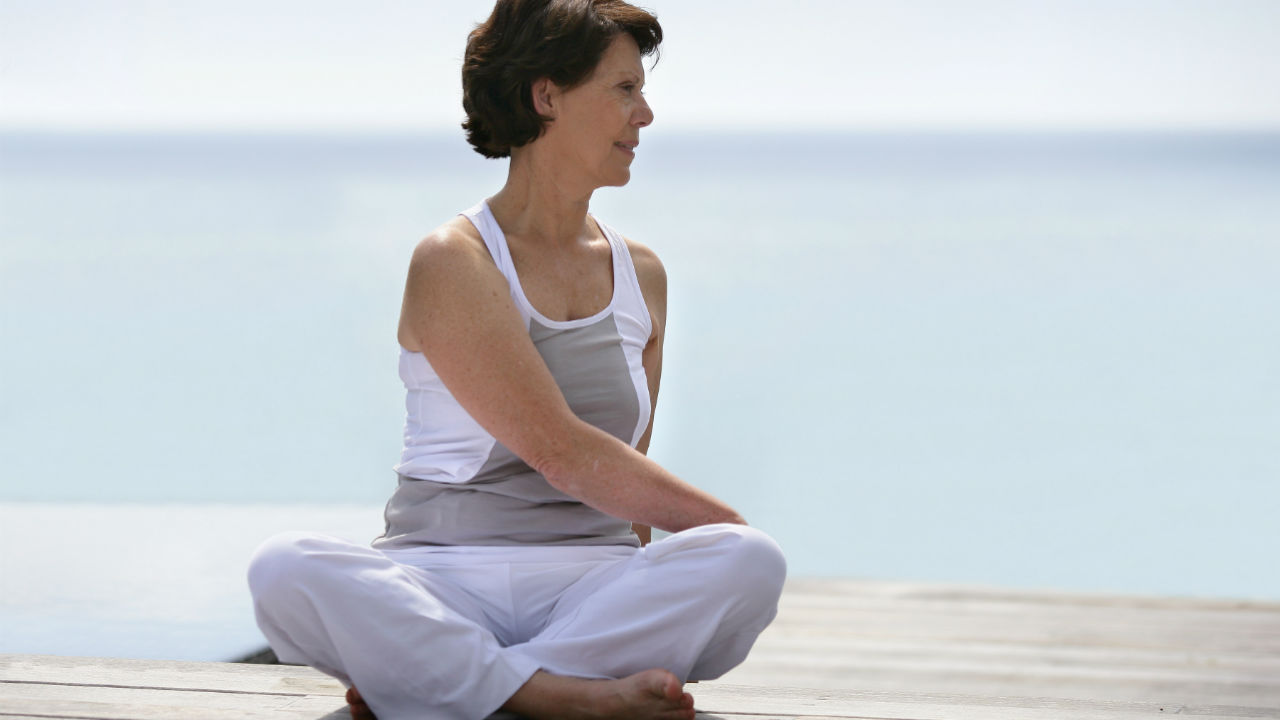 Amidst a flood of menopause therapies sworn to cast off hot flashes, yoga appears to deliver. We don't often think of it for this purpose, but this Eastern-based meditative practice that focuses on using both physical and mental discipline to improve health, might play a role in lessening the intensity of menopause's most notorious symptom.
Even if the thought of trying it out hasn't yet crossed your mind, you might now be thinking, 'Well, if I'm going to get sweaty and red-faced anyway, I might as well do it in a yoga studio.'
One pose in particular, legs against the wall, promises to do this by calming the nerves and lessening stress and fatigue that are thought to worsen individual episodes. To assume the position, the yogin lies with her back on the floor and her legs fully extended up against a wall. Folded blankets or padding go underneath the hips and head, so that the shoulders and arms sink down, and are the only parts touching the ground. Three to five minutes of concentrated relaxation later and you're done with the pose.
And this isn't the only menopause-targeted move. Proponents of yoga as a therapy for menopause say there are a number of other positions thought to mitigate perimenopausal symptoms like hot flashes. As this trend continues, yoga studios all over the country are now even offering menopause specific sessions, where the entire purpose is to focus on a more natural remedy.
As with most forms of alternative therapies however, there are limitations of which to take note. To date, no well-designed scientific studies have documented a solid, reproducible connection between meditation and relief from menopausal hot flashes. Indeed, it would be difficult to do as hot flashes are a subjective experience and not every women feels them to the same degree.
A few studies seem to suggest a possible link between the two, and the Mayo Clinic lists yoga and meditation as a possible home remedy on their list of therapeutic options for hot flashes.
All this said, an article in the Journal of Clinical Oncology last year pointed out that for hot flashes related to chemotherapy from breast cancer, yoga really seemed to do the trick as a non-hormonal therapy. This, they said, had to do with quieting a ramped up sympathetic nervous system (thought to control temperature regulation in the body) after normal levels of estrogen had been lost.
For now, while we await more evidence clarifying mind-body practices and their roles in treating menopause symptoms, it's worth noting that a little relaxation and stretching never hurt anyone.