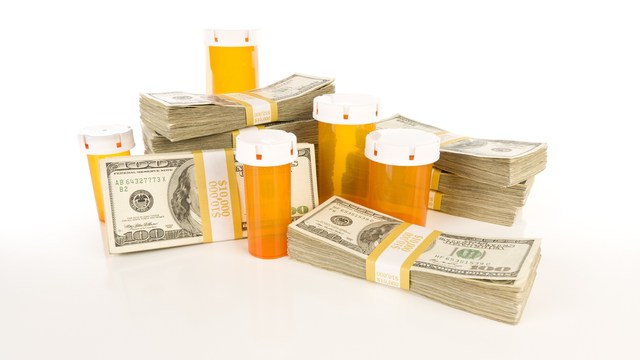 Andy Dean Photography/PhotoSpin
Loading the player ...
Hepatitis C is a contagious virus that affects the liver. It can cause liver cancer, cirrhosis of the liver and liver damage in general. This virus is generally spread via unprotected sex, dirty needles (from drug use or other accidental/irresponsible use of needles) body piercings or being infected during the course of health care.
Most people deal with Hep C on a chronic basis, being careful of their health, avoiding alcohol and taking medications that can help with the health of their liver.
But now, it seems that a drug has been developed which can actually kill the virus and allow sufferers to live hepatitis-free. The problem is that if you live in the United States, you probably can't afford it and it's American-based manufacturers have no plans to reduce the cost.
Gilead Sciences, founded in California, is offering a new medication called Sovaldi. For 90 percent of those who take it, the drug offers an actual cure for hepatitis C within three months. This medication is taken over a period of time, in a series of treatments.
What is so good about this drug is the fact that it works, and works well for almost everyone who takes it, and with few side effects, according to a CBS news report.
What is so bad for patients and insurance companies is that the manufacturers are charging $1000 per day to Americans who desperately need this drug for a cure.
But Gilead Sciences are not charging this enormous amount to patients around the world. In fact, it's being offered for a song in places like Egypt for $900 for the entire course of treatment - that's less than one day's treatment in the United States.
Even European countries have a better asking price, albeit a costly one too. The cost of the series in the UK is about $57K and in Germany, around $66,000.
Both these countries have universal health care. The cost for an American is $84,000, making it 99 percent more expensive than in another country like Egypt.
While many Americans have health insurance, their carriers are balking at the cost and are pressuring doctors to not prescribe it as much. But doctors want to prescribe it as much as possible because it works so well, and are balking right back at the insurance companies.
For those who are on a public /welfare health system in the United States, it will cost the tax payer $84,000 for every patient who completes the treatment.
It's understandable why some medications can be expensive. Millions of dollars go into the research and development of drugs, all without a guarantee of gaining approval by the FDA.
Gilead wants to charge for the medication in each country based on average income. But one of the problems with this is that about half of hep C sufferers have no money. They're in prison, uninsured or on basic Medicaid.
For now, the price remains the same but Gilead may have some competition soon, with other drug research companies working to develop a similar drug for hepatitis C patients and with more options come cheaper prices.
To avoid the infection of hepatitis C, make sure you are well protected against the virus if working with those affected. Do not use drugs, especially those that require needles. Never have unprotected sex with someone whose sexual history you do not know or trust.
According to an EmpowHER article Factoids about Hepatitis C signs of having this virus include:
Clay or light-colored bowel movements
Dark urine
Diarrhea
Fever
Fatigue or excessive tiredness
Loss of appetite
Nausea
Vomiting
Abdominal pain or swollen stomach
Upset stomach
Swollen ankles
Joint pain
Jaundice
Longer than usual amount of time for bleeding to stop
Bruise easily
If you are experiencing any of these symptoms or several of them, it's a good idea to see a doctor.
Sources:
CBSNews.com. Moneywatch. " $1,000-a-day miracle drug shocks U.S. health care system." Web. Retrieved April 3rd, 2014. http://www.cbsnews.com/news/1000-a-day-miracle-drug-shocks-us-health-care-system
EmpowHER.com. Hepatitis. Hepatitis C. Factoids About Hepatitis C. Web. Retrieved April 3rd, 2014. https://www.empowher.com/hepatitis-c/content/factoids-about-hepatitis-c
Reviewed April 7, 2014
by Michele Blacksberg RN
Edited by Jody Smith