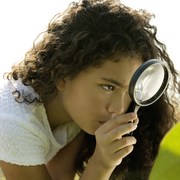 PS Productions/Photospin
As a nurse, I love reading the mystery diagnosis section in the New York Times. Sunday's article was about a 54-year-old woman who presented with a mystery skin infection.
She developed a deep open wound on her calf that had grown to the size of a saucer. Four smaller lesions were also present.
The larger wound drained fluid that appeared to be infected. It had gotten progressively worse over the past month.
Luckily, the woman's roommate persuaded her to go to the ER and Dr. Nadine Stanojevic, who was in her last year of an internal medicine residency, was the doctor who evaluated her.
The woman indicated she had had small painful abscesses in the past that would open, drain and resolve but this one just grew larger.
She had been washing and dressing the wound daily and using antibiotic cream but it did not seem to help. The pain had increased over the last two weeks and the woman now found it excruciating to even stand.
The doctor started the woman on IV Vancomycin, a powerful antibiotic used to treat methicillin-resistant Staphylococcus aureus (MRSA) since it was presumed that was the bacteria causing the infection.
MRSA is a serious infection that causes abscesses to form on the skin and is resistant to many antibiotics.
Three days later, the wound did not look any better and the wound cultures that were taken before starting the antibiotics did not show MRSA was present.
This was the moment when the doctor wondered if perhaps it was not a wound infection at all.
Stanojevic remembered a patient she had cared for as an intern who had a similar wound infection that did not respond to antibiotics. That patient had been found to have pyoderma gangrenosum, "a rare and somewhat mysterious skin disease."
Pyoderma gangrenosum is an autoimmune disease where the body's immune system turns on itself as if it is being invaded. It occurs mostly frequently in those with certain inflammatory diseases such as Crohn's disease, hepatitis and some types of arthritis. It develops most commonly on the trunk.
In this woman's case, she had a history of heroin abuse and tested positive for hepatitis C. It was believed that her hepatitis C is what allowed the mysterious skin infection to occur.
Pyoderma grangrensum is difficult to recognize because the wounds look like they are infected. Doctors try antibiotic after antibiotic, assuming a bacteria is the cause.
The true treatment for pyoderma grangrensum is giving a patient the opposite medication to what one would think for an infection. Instead, steroids are given to suppress the immune system.
Within 24 hours of being given steroids, the woman's skin ulcer was significantly better. To prevent further outbreaks, her hepatitis C was also treated.
The moral of this story is to not ignore skin infections that appear for no particular reason. Make sure you or someone else with an open infection is promptly treated by a doctor.
If a skin infection does not seem to resolve after receiving antibiotics then it is possible that there is another cause of the outbreak. This is when asking to have an infectious disease medical consult may uncover other factors that have not been previously considered.
Sources:
A Wound That Won't Heal by Lisa Sanders M.D. New York Times Magazine. Diagnosis. November 11, 2012.
Taber's Cyclopedic Medical Dictionary. Edition 13. F.A. Davis Company. Philadelphia,. Pennsylvania. Edited by Clayton L.Thomas. M.D. M.P.H.
Michele is an R.N. freelance writer with a special interest in woman's healthcare and quality of care issues. Other articles by Michele are at www.helium.com/users/487540/show_articles/
Edited by Jody Smith