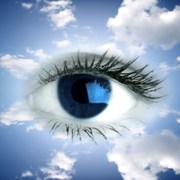 Hemera/Thinkstock
How would I describe an eye twitch? My vision is usually not affected but I can feel a sensation running along my eyelash line.
It causes my eyelid to move sideways every couple of seconds. It is a tic, a twitch. It is probably not as obvious to others as I would think.
It's the kind of thing that I feel like everyone can notice as I talk to them so in conversation, I make it a point to mention it. Their reaction, "Oh, I hate it when that happens to me!"
So why does this happen? Am I tired? Am I stressed?
These are both things that I always assumed were the reason but my curiosity got the best of me after I experienced the"twitching eye syndrome" last week.
According to About.com, "Eye twitching is an involuntary eyelid muscle contraction that usually affects the lower eyelid."
The exact cause is unknown but it can be associated with fatigue, high caffeine intake or increased stress. It may also occur when the eyes are strained by long periods of reading, computer work or excessive squinting possibly due to poor lighting conditions.
Jeffrey Cain, M.D., president-elect of the American Academy of Family Physicians and the chief of family medicine at Children's Hospital Colorado in Denver explains, "A muscle is firing under your skin, because you are in a state of excitement or stress." (Realsimple.com)
The twitching is involuntary and cannot be controlled. It is more common in adults than children and can be aggravated in situations where your eyes are dry.
It is not considered to be serious and is usually temporary, lasting no longer than two or three days.
Anyone that has experienced this can tell you, it is completely annoying. So what can you do to stop the twitch?
Wait it out. Get some rest. Take a break. Reduce your stress.
The body usually finds a way to tell you to slow down or change what you are doing, even for just a little while. I find that some rest or a decent night's sleep usually solves the issue. I have read that warm compresses can also help.
If your symptoms last for more than a few days, consider consulting with an eye specialist to rule out any serious eye problems.
Sources:
"What Causes Eye Twitching?"; About.com; June 18, 2010; Retrieved May 16, 2012.
http://vision.about.com/od/sportsvision/f/eye_twitching.htm
"Why Does My Eye Twitch?"; Answers.webmd.com; July 29, 2010; Retrieved May 16, 2012.
http://answers.webmd.com/answers/1190328/why-does-my-eye-twitch
"Why Doesn My Eye Twitch?"; Realsimple.com; Retrieved May 16, 2012.
http://www.realsimple.com/health/preventative-health/why-does-my-eye-twitch-00100000076542/index.html
Reviewed May 17, 2012
by Michele Blacksberg RN
Edited by Jody Smith
Tags: