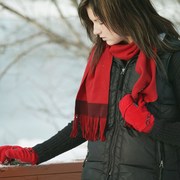 Design Pics/PhotoSpin
As 2012 winds down to a close, it is the season for celebrating friends and family, festive atmospheres and the holiday spirit. For many, this time of year brings people close together as they bond through work parties, family events and gift exchanges.
But for some, the December season marks a time of sadness and withdrawal, especially for those who experience depression. Regardless as to whether or not the season is too overwhelming or marks an anniversary of something significant, it is important to know there are options for help.
Everyone has felt depressed at some point in their lives. It is normal to feel sad or down for short periods of time for specific reasons. But when the blues start to take over someone's life, it is time to seek help.
True depression often interferes with eating, sleeping, interacting with friends and family, and enjoying life.
Symptoms include feeling sad, down, overwhelmed, hopeless, dark and despairing. There may be problems concentrating, problems sleeping (or vice versa -- sleeping all the time), loss of appetite (or stress-eating), withdrawal, low energy, feeling guilty and more.
People may not want to engage with their families, they find shopping overwhelming, they do not want to get out of bed, going to parties seems like a chore. They may find themselves fighting with or avoiding their children and significant others.
Help is available but it is important to recognize the symptoms and realize that it is okay to seek support.
Talk to those around you. Talk with your health care provider, your counselor, your spouse, your church leader, your best friend or your mom.
Seek support groups online and realize that you are not alone. Seek support groups within your area as local community centers and churches often offer classes or sessions in a group setting.
If you are feeling blue because you are alone, the holiday season is a great time for volunteering!
Consider offering your services to play with animals at the shelter, work at the food bank, collect clothes for the homeless, wrap toys for children in need, or serve food for a church.
It is the time of year to call up friends you have not seen in awhile or create new traditions with others in your circle that are alone as well during the holidays.
December is often a dark and cold month for most of the United States, therefore consider getting a light box and use it daily.
Set it on your bathroom counter while you get ready in the morning or have it on your desk at work. The light box, commonly called full spectrum light, affects the pineal gland in the brain to improve mood and circadian rhythm.
If you can afford it, consider a vacation somewhere warm and sunny to break the monotony of snow or rain. Even going outside and enjoying fresh air can improve mood and outlook – consider skiing, snow shoeing, hiking, and sledding.
While antidepressant medications may be indicated, and can work quickly and effectively, natural remedy alternatives to consider include 5-HTP and L-tryptophan. They can both improve serotonin levels (the hormone involved with depression) but it is important not to take these with an antidepressant medication if you are on them already.
There has been a lot of stress and strife this 2012 year and as a result depression can be a natural reaction. If your sadness and blues are lasting longer than seem "normal" to you, seek help because it is there all around you. Do not be left down and out during this time of celebration.
References:
1. National Institute of Mental Health: Depression. Web. 23 December, 2012.
http://www.nimh.nih.gov/health/publications/depression/index.shtml
2. Light Therapy as Effective as Fluoxetine for Seasonal Affective Disorder. Web. 23 December, 2012.
http://www.medscape.com/viewarticle/491504
3. University of Maryland Medical Center: 5-Hydroxytryptophan. Web. 23 December, 2012.
http://www.umm.edu/altmed/articles/5-hydroxytryptophan-000283.htm
Reviewed December 23, 2012
by Michele Blacksberg RN
Edited by Jody Smith