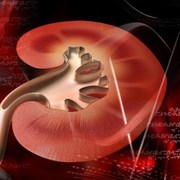 Hemera/Thinkstock
Perhaps the celebrity news about the 21-year-old actress from a hit TV series who just underwent a kidney transplant will raise awareness about kidney disease and the need for organ donors.
Sarah Hyland, the goofy but lovable teen daughter on ABC's "Modern Family," revealed in the June/July issue of Seventeen magazine that in April 2012 she received a kidney from her father.
Hyland has struggled with kidney dysplasia, or abnormal kidney development, since she was 9 years old. Her condition deteriorated over the years to the point where doctors recommended a kidney transplant.
Kidney dysplasia, when it begins to seriously affect the functioning of the kidneys, can bring on frequent pain along with exhaustion.
Hyland told "Good Morning America" that she coped with her disease during her scenes on "Modern Family," where she plays teen Haley Dunphy, by frequently sitting on a sofa or bed -- with her ever-present cellphone, of course -- or by leaning on something.
"You know, if you're sick, you still go to work. And in between takes, you sit down, or you lay your head down or something," she says in the GMA interview.
The summer hiatus for "Modern Family" will give Hyland a chance to recover from her surgery.
Here are a few facts and figures on kidney disease and kidney transplants from the National Kidney and Urologic Diseases Information Clearinghouse and the National Kidney Foundation:
 More than 10 percent of those age 20 and older in the United States have chronic kidney disease.
 The most common reasons behind kidney disease are diabetes and hypertension.
 In 2008, there were more than 17,000 kidney transplants performed in the United States.
 In 2008, the sources of organ donation for kidney transplants primarily were deceased donors and living, related donors. There were about 1,200 donations from a living, unrelated person.
 As of February 2011, almost 88,000 people were awaiting kidney transplants. More than 2,000 people were awaiting a kidney and pancreas transplant.
 The "Be an Organ Donor" section of the National Kidney Foundation website reports that about 18 people die every day while waiting for an organ transplant in the United States.
Now that Hyland has revealed the secret about her kidney disease and about the organ donation from her father, actor Edward James Hyland, the young star has become an ambassador for the Lopez Foundation.
Comedian George Lopez, who also is a kidney transplant recipient, started the foundation to raise awareness about organ donation and other community health issues.
Interestingly, another high-profile TV comedian also is a recent kidney transplant recipient. Tracy Morgan, one of the stars of NBC's "30 Rock," underwent a transplant in December 2010 as a result of diabetes.
You can find out how to be an organ donor by going to www.donatelife.net/ where options such as online registries and driver's license designations are listed by state.
Sources:
"Sarah Hyland's Secret Struggle With Kidney Disease." ABC News. Web. 16 May 2012.
http://gma.yahoo.com/blogs/abc-blogs/sarah-hyland-s-secret-struggle-with-kidney-disease.html
"Sarah Hyland of 'Modern Family' reveals kidney transplant at 21." Los Angeles Times. Web. 16 May 2012.
http://www.latimes.com/entertainment/gossip/la-et-mg-sarah-hyland-kidney-transplant,0,6705815.story
"Kidney and Urologic Disease Statistics for the United States." National Kidney and Urologic Diseases Information Clearinghouse (NKUDIC). Web. 16 May 2012. http://kidney.niddk.nih.gov/KUDiseases/pubs/kustats/index.aspx#kidney
"Be an Organ Donor." National Kidney Foundation. Web. 16 May 2012. http://www.kidney.org/transplantation/beadonor.cfm
"Kidney Dysplasia." National Kidney and Urologic Diseases Information Clearinghouse (NKUDIC). Web. 16 May 2012. http://kidney.niddk.nih.gov/kudiseases/pubs/kidneydysplasia/index.aspx
Reviewed May 17, 2012
by Michele Blacksberg RN
Edited by Jody Smith