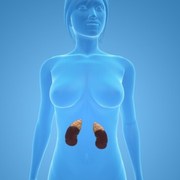 Hemera/Thinkstock
In the time it takes to make a trip to the bathroom (you can thank your kidneys for sending a message to your bladder) you can learn a few things about protecting a vital organ in your digestive system. And besides, it's an opportune moment: March is National Kidney Month.
Your kidneys are the filters of your body. They take extra water and wastes out of your blood and turn them into urine. Without this filtering, wastes can build up in your body, among other problems.
You also rely on your kidneys, in part, for controlling blood pressure and producing needed hormones.
Protecting your kidneys keeps your digestive system humming and prevents kidney disease, which is the eighth-leading cause of death in the United States, according to the Centers for Disease Control. More than 20 million American adults have chronic kidney disease and many of them are not aware of their condition, the CDC says.
Here are the four primary risk factors for kidney disease:
-- Diabetes. Do you get your blood and urine checked for this condition during regular physical exams? Diabetes is the leading cause of kidney failure.
-- High blood pressure. If you have a tendency toward high blood pressure, is a health care practitioner advising you on how to control it? Do you have a blood pressure monitor at home?
-- Heart disease. Have you been diagnosed? Are your medications, eating habits and physical activities being monitored?
-- A family history of kidney failure. Do a little investigating on the subject, if you have never asked.
The website for National Kidney Month says that any of these risk factors call for testing in order to rule out kidney disease. Why? There are no outward signs or symptoms for early kidney disease. It often develops slowly.
With early diagnosis, you can control kidney disease and prevent or delay kidney failure, says the CDC. Doctors can diagnose it through blood and urine tests.
To keep your kidneys healthy, follow these steps as outlined by the CDC and the National Kidney Disease Education Program:
-- Keep blood pressure below 130/80 mm/Hg.
-- Stay in your target cholesterol range.
-- Cut back on salt and salt substitutes.
-- Eat heart-healthy foods.
-- Stay physically active.
-- Keep your weight in the normal range for your age and height.
-- Take your medications as prescribed.
-- If you smoke, quit.
-- Limit your alcohol intake.
Diabetes patients have the additional responsibilities of meeting blood sugar targets as often as possible and getting an A1c test (for measuring blood sugar averages) every few months.
If you are at risk for adult-onset diabetes, fight it off with weight loss and physical activity. And if you are Hispanic, African American or Native American, you are prone to higher rates of diabetes and elevated blood pressure, which in turn can put you at greater risk for kidney failure.
Excellent resources on the National Kidney Disease website will give you additional information on keeping your kidneys healthy and getting tested for kidney disease.
The home page is http://nkdep.nih.gov/index.shtml/
Check out the informational videos in both English and Spanish.
Sources:
"At Risk for Kidney Disease?" National Kidney Disease Education Program. Web. 14 March 2012. http://nkdep.nih.gov/learn/are-you-at-risk.shtml
"Protect Your Kidneys: Control Diabetes, Blood Pressure." Centers for Disease Control and Prevention. Web. 14 March 2012. http://www.cdc.gov/Features/WorldKidneyDay
Reviewed March 15, 2012
by Michele Blacksberg RN
Edited by Jody Smith
Tags: