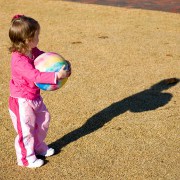 Photo: Getty Images
The prevalence of autism spectrum disorders in the United States ranges from one in 80 children to one in 240 children, averaging out to one in 110, noted the Centers for Disease Control and Prevention. Autism spectrum disorders consist of several conditions, with the least severe form being Asperger syndrome, and the most severe being autism (also called classical autism spectrum disorder). Autism is a developmental disorder, and signs start to show within the child's first three years of life. Some children with autism may not meet specific developmental milestones. For example, at age one, the child may not babble or make meaningful gestures; by 16 months, he or she may not be speaking singular words; by two years of age, he or she may not be combining two words when speaking. MedlinePlus pointed out that some children have a regressive type of autism in which they appear to reach milestones normally before age one or two, but then they lose their social or language skills.
While the exact cause of autism is not yet known, researchers have looked at the roles that genetics play, including irregularities with the brain. The National Institute of Neurological Disorders and Stroke noted that studies have found irregularities in brain structures and abnormal levels of neurotransmitters. "These abnormalities suggest that (autism spectrum disorders) could result from the disruption of normal brain development early in fetal development caused by defects in genes that control brain growth and that regulate how brain cells communicate with each other, possibly due to the influence of environmental factors on gene function."
A new study, published in the June 23 issue of Neuron, revealed an irregularity in neural communication which may indicate autism early. The study included children who were between the ages of one and four; 29 had autism, 13 had significant language delays and 30 had no developmental impairment. The researchers used functional magnetic resonance imaging (fMRI) to scan the brains of the participants. They discovered that in the children that had autism, the neural synchronization between the left and right hemispheres' language regions were not as strong as in the other children. "The weaker the synchronization, the more severe the autistic child's communication difficulties," said Jenifer Goodwin of HealthDay. The specific regions the researchers found that had decreased neural synchronization were the superior temporal gyrus (receptive language), as well as the left and right inferior frontal gyrus (speech). Johns Hopkins University's Center for Imaging Science showed the superior temporal gyrus highlighted in blue. The findings of this study may help screen for the disorder before patients start showing symptoms.
References
Centers for Disease Control and Prevention. Autism Spectrum Disorders (ASDs): Data and Statistics. 2010. Web. 11 July 2011
http://www.cdc.gov/ncbddd/autism/data.html
A.D.A.M. Autism. MedlinePlus, 2010. Web. 11 July 2011
http://www.nlm.nih.gov/medlineplus/ency/article/001526.htm
National Institute of Neurological Disorders and Stroke. Autism Fact Sheet. National Institutes of Health, 2011. Web. 11 July 2011
http://www.ninds.nih.gov/disorders/autism/detail_autism.htm
Goodwin, Jenifer. Poor Brain 'Sync' a Possible Sign of Autism. HealthDay, 22 June 2011. Web. 11 July 2011
http://consumer.healthday.com/Article.asp?AID=654182
Reviewed July 12, 2011
by Michele Blacksberg R.N.
Edited by Kate Kunkel
Tags: