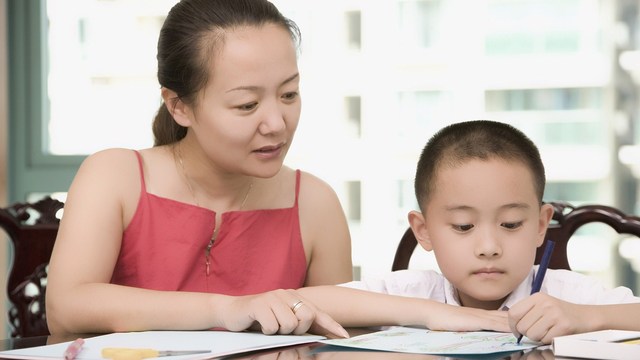 PS Productions/Photospin
What is an Individualized Education Program (IEP)?
An IEP is a legally binding, written plan that lays out the types of special education programing and/or services required by a particular student with an identified learning disability or medical condition that affects how that student functions in a classroom/school setting. (2) The various components that could be included in an IEP are summarized below.
According to the United States Department of Education, each public school child who is eligible to receive special education and related services must have an Individualized Education Program (IEP) which has been designed specifically for that individual student. It cannot be a "copy and paste" document where a child's name is just inserted into a form letter or previously prepared document. (1)
"The IEP is the cornerstone of a quality education for each child with a disability." (U.S. Department of Education)
Qualification for an IEP
There are several steps to ensuring that a child qualifies for special educational assistance and, therefore, an IEP (compiled from the U.S. Department of Education).
IEP Qualification Step 1:
The child must be identified by parent or school professional as possibly needing special education and related services.
IEP Qualification Step 2:
The child is evaluated by the state-run "Child Find" process. If the parents disagree with the evaluation, they can ask for an Independent Educational Evaluation (IEE) for their child, for which they can ask that the school system pay.
IEP Qualification Step 3:
If the diagnosis or evaluation places the child within the disability definitions of the Individuals with Disabilities Education Act (IDEA), then he or she is eligible for an IEP and an IEP must be developed within 30 calendar days of the identification. (1)
The child will need to be re-evaluated every three years to ensure that he/she continues to fall within the IDEA guidelines, and to re-examine if the child's educational needs should stay the same or need to be adjusted.
IEP Qualification Step 4:
IEP meeting between parents, teachers, principal/vice-principal, teaching or educational assistants to discuss and develop the parameters of the IEP and for the parents to give their consent. No special education services can be given to the child without the parents' consent. This IEP will be reviewed at least once a year, but parents can request that it be reviewed more often.
What Should an IEP Include?
The original IEP document and reviewed IEPs should clearly state:
• The student's strengths and needs, which form the basis for the development of the special education program and services. (2)
• A summary of the student's current level of achievement in each subjects, course, or skill area to which the IEP applies against which the student's progress will be measured. (2)
• Annual goals describing what the student can reasonably be expected to accomplish by the end of the school year. These annual goals should be developed taking the student's identified strengths, needs and alternative learning expectations (see below) into account. (2)
• Learning expectations that will provide a focus for learning. These expectations should be based on the student's strengths, needs, and current level of achievement, and should clearly identify the knowledge and skills that the student is expected to gain through the duration of the course work and school year. (2) The learning expectations should be specific, realistic, observable, and be reviewed "at least once every reporting period and updated as needed in view of the student's progress." (2)
• Specific special education strategies, accommodations, and resources that will be used to support the student "in achieving his or her annual goals and learning expectations [such as] teaching strategies and accommodations; human resources; and individualized equipment ..." (2)
Sources:
1. A Guide to the Individualized Education Program. U.S. Department of Education. Web. Apr 22, 2013.
http://www2.ed.gov/parents/needs/speced/iepguide/index.html#top
2. Individual Education Plans: Standards for Development, Program Planning, and Implementation 2000. Government of Ontario (Canada). Web. Apr 22, 2013
http://www.edu.gov.on.ca/eng/general/elemsec/speced/iep/iep.html
3. Individual Education Plans (IEPs): are they useful? TeachingExpertise.com. Web. Apr 22, 2013.
http://www.teachingexpertise.com/e-bulletins/individual-education-plans-ieps-are-they-useful-2191
4. Individualized Education Programs (IEPs). KidsHealth.org. Web. Apr 22, 2013.
http://kidshealth.org/parent/growth/learning/iep.html#
Reviewed April 22, 2013
by Michele Blacksberg RN
Edited by Jody Smith