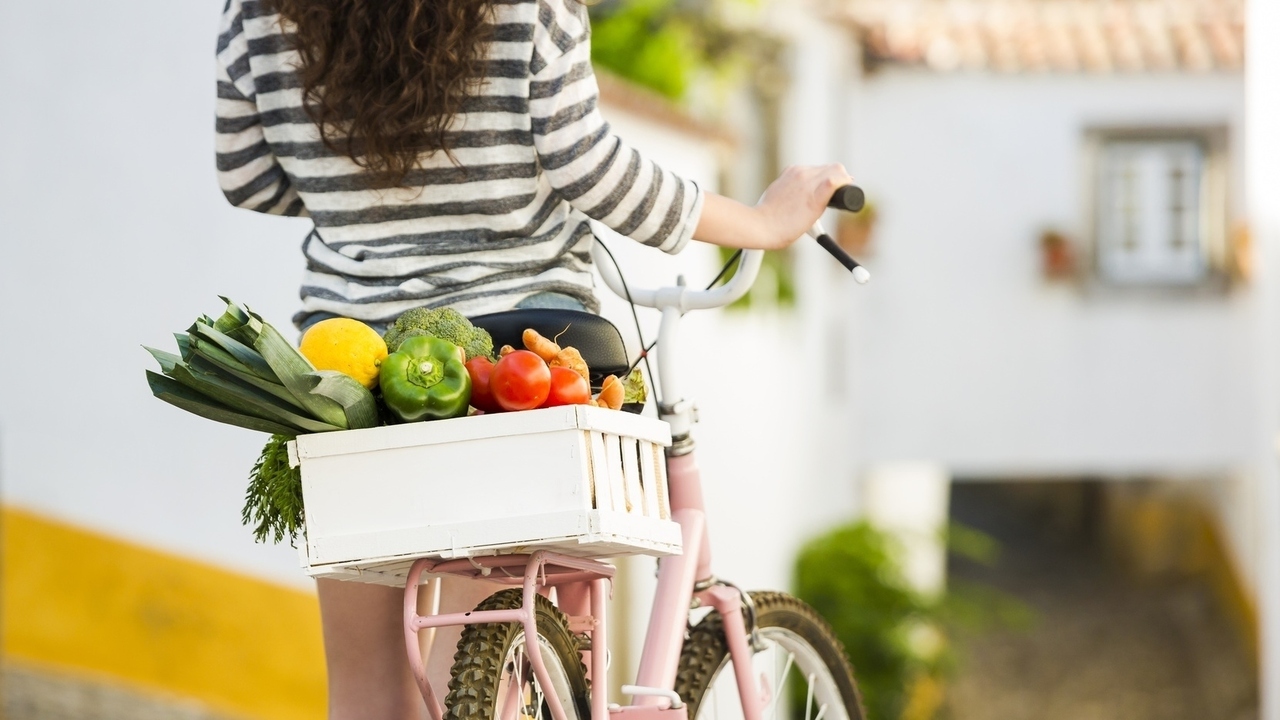 iko/Fotolia
Carbon dioxide, the major driver of global climate change, has reached the 400 parts per million mark, the highest ever. (1)
NASA scientist Dr. Erika Podest shared, "This milestone is a wake up call that our actions in response to climate change need to match the persistent rise in CO2. Climate change is a threat to life on Earth and we can no longer afford to be spectators." (2)
The bad news can be paralyzing, and can create Climate Change Fatigue: the sense that in the face of overwhelmingly negative news, there is little change we, as individuals, can affect.
David Husemoller, Sustainability Manager at College of Lake County, relates personal environmental responsibility to voting. "We don't focus on how our one little vote rarely changes any election results, but rather we know that we are participating with the whole body of the voters to make our intentions registered to make a collective impact."
1) It will hurt, but change your diet.
Car emissions get the most press, but our diet is the biggest contributor of greenhouse gases in the environment. A report by the Food and Agriculture Organization of the United Nations quoted in Scientific American revealed that meat consumption contributes more carbon dioxide, methane and nitrous oxide than either industry or transportation. (3)
"It turns out that producing half a pound of hamburger for someone's lunch a patty of meat the size of two decks of cards releases as much greenhouse gas into the atmosphere as driving a 3,000-pound car nearly 10 miles," wrote Nathan Fiala. (3)
A Dutch study reported in Slate found that worldwide vegetarianism or veganism would reduce agriculture-related carbon emissions significantly, and reduce the risk of growing antibiotic resistance. (4)
Reducing meat consumption and buying meat from smaller, organic local farms when possible is a good start. Doing your own research on the health and environmental benefits of a plant-based diet will do more to persuade you than this article. Be sure to check out the mortality rates of vegans while you're at it.
2) Reduce your use of fossil fuels.
Take the quiz What's My Carbon Footprint? to assess your personal impact.
Here are a few things you can implement to reduce your carbon footprint:
- Buy fuel-efficient cars, drive less, and stop idling your car in the school pickup line.
Combine errands to reduce trips. Bike, walk and carpool when possible. You save one pound of carbon dioxide emissions for every mile of driving you eliminate, according to the Washington State Department of Ecology. (5)
- Buy renewable energy from your utility company.
- Replace light bulbs with energy-efficient bulbs as you are able. By replacing the bulbs in your home, you eliminate 150 pounds or more of CO2 for each bulb per year.
- Plant trees and vegetation.(5)
For a more exhaustive guide to reducing your carbon footprint, read here.
3) Let's have plastic bags go the way of cigarettes and littering.
In the 1970s and 80s, it was not uncommon to see litter fluttering out the windows of cars, a practice nearly unthinkable today. The use of plastic bags is headed for the same infamy.
According to The Worldwatch Institute, 4 to 5 trillion bags were produced worldwide in 2002. Just this week China imposed a crackdown on the production of plastic bags, the State Council citing the waste of energy and resources, and the danger the bags pose to wildlife. (6)
Scientific American reported, "The fact that Americans throw away some 100 billion plastic grocery bags each year means we are drilling for and importing millions of barrels worth of oil and natural gas for a convenient way to carry home a few groceries." (7)
Beyond the carbon footprint of manufacturing plastic bags, consider the impact on wildlife. A Worldwatch Institute report quoted in Scientific American revealed that at least 267 species of marine wildlife are known to have suffered from entanglement or ingestion of trash in the oceans, most of which is made of plastic. (7)
Paper bags are not the solution as they have a HIGHER carbon footprint than plastic. Reusable bags are the earth-friendly alternative. If plastic bags do end up in your home, recycle them to keep them out of oceans and landfills. Most grocery stores now have nondescript recycle bins near the entrance specifically for plastic bags.
Unfortunately, just addressing our plastic habit will do little to turn the tides of climate change. "Like all simple and painless behavioural changes," reported The Guardian, "its value hangs on whether it acts as a catalyst for other, more impactful, activities or support for political changes." (8)
For the most impact,
4) Vote for Scientifically Literate Candidates.
Representative Dana Rohrabacher offered this plan to reduce global warming: "Is there some thought being given to subsidizing the clearing of rainforests in order for some countries to eliminate that production of greenhouse gases?" (9)
A lawmaker proposes subsidizing deforestation. Fact: Trees absorb far more carbon dioxide over their lifespans than they emit. Referring to Rohrabacher's forest elimination strategy, Jay Gulledge, a senior scientist at the Pew Center on Global Climate Change told Politico, "It's beyond the pale. It makes no sense." (9)
A good tree bears good fruit. U.S. policies cannot be smarter than the lawmakers who create them. Vote for candidates who support investment in renewable energy and scientific research, and support environmental protection.
5) Invest in renewable energy.
Going green is good for the planet, and currently good for your investment portfolio. Take a look at your investments and make adjustments towards environmental responsibility.
According to Forbes, investment in renewable energy was responsible for 60 percent of the new green electrical generating capacity in the first nine months of this year. Renewables currently account for 18 percent of power generation in the United States, and there's plenty of room to grow. (10)
The 10 clean energy exchange traded funds listed here, have outperformed the overall S&P 500.
The clean companies in the ETFs are expected to grow earnings at an estimated 12 percent to 24 percent in the next five years, compared to an expected 10 percent for the S&P 500, reports Forbes. (11)
Become part of the solution. Cast off your spectator status and eat green, drive and idle less, eschew plastic, vote and invest, all with an eye towards sustainablity.
Sources:
1) Has Environmental Journalism Failed? slate.com. Retrieved November 2, 2015.
http://www.slate.com/articles/health_and_science/science/2015/04/gallup_poll_on_the_environment_have_journalists_failed_on_climate_change.html
2) Global Climate Change. nasa.gov. Retrieved November 3, 2015.
http://climate.nasa.gov/400ppmquotes
3) How Meat Contributes to Global Warming. ScientificAmerican.com. Retrieved November 2, 2015.
http://www.scientificamerican.com/article/the-greenhouse-hamburger
4) What if Everyone in the World Became a Vegetarian? slate.com. Retrieved November 4, 2015.
http://www.slate.com/articles/health_and_science/feed_the_world/2014/05/meat_eating_and_climate_change_vegetarians_impact_on_the_economy_antibiotics.html
5) What YOU can do. ecy.wa.gov. Retrieved November 3, 2015.
http://www.ecy.wa.gov/climatechange/whatucando.htm
6) New Bans on Plastic Bags May Help Protect Marine Life. (2015, November 3). Retrieved from
http://www.worldwatch.org/node/5565
7) Do Plastic Bag Bans Work? ScientificAmerican.com Retrieved November 2, 2015.
http://www.scientificamerican.com/article/do-plastic-bag-bans-work/
Uncovering Green Alternative Energy Mutual Funds
8) 'Every little helps' is a dangerous mantra for climate change. TheGuardian.com. Retrieved November 2, 2015.
http://www.theguardian.com/sustainable-business/plastic-bags-climate-change-every-little-helps
9) Do trees cause global warming? politico.org. Retrieved November 3, 2015.
http://www.politico.com/story/2011/05/do-trees-cause-global-warming-055731#ixzz3qSkXV3Dc
10) Clean Energy Investment Up 25% In Q3. forbes.com. Retrieved November 2, 2015.
http://www.forbes.com/sites/billtucker/2015/10/29/clean-energy-investment-up-25-in-q3
11) Earth Day 2015: These 10 Funds Prove Investors Can Beat The Stock Market By Going Green. forbes.com. Retrieved November 3, 2015.
http://www.forbes.com/sites/trangho/2015/04/21/earth-day-2015-these-10-funds-prove-investors-can-beat-the-stock-market-while-saving-the-planet
Reviewed November 5, 2015
by Michele Blacksberg RN
Edited by Jody Smith
Tags: