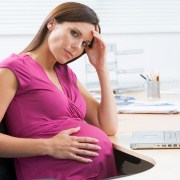 Photo: Getty Images
Pregnancy should be a time of joy, wonder, and maybe a few aches and pains. But, for women who also have a history of asthma, pregnancy can be a time of wheezing, shortness of breath, and night-waking due to breathing issues.
According to Asthma.com, asthma is a chronic disease of the lungs that can be controlled with proper treatment but it cannot be cured. It is caused by two things: airway constriction and inflammation.
The airway constriction, often explained as tightness in the chest or like a weight is sitting on the person's chest, comes from the muscles around the lungs squeezing together which makes it harder for a person to breathe.
The inflammation in an asthmatic person's lungs typically is always there, but during an asthma attack it can get even worse. The tissues inside the lungs get irritated and swollen and in some cases thick mucus develops.
The combination of these forces makes it even more difficult for air to move through the lungs and can cause wheezing, coughing, shortness of breath, and can be fatal if not controlled. The Asthma and Allergy Foundation of America found that each day in America, 5,000 people will visit the emergency room due to asthma and 11 people will die from asthma attacks.
It is pretty obvious that asthma is a disease to take seriously. Asthmatics need to work with their doctors to create a plan that works for them to control their symptoms. It is just as obvious that these symptoms can be harmful to pregnant women, but they can be even more dangerous to the developing fetuses.
Uncontrolled asthma can lower the amount of oxygen in the mother's blood, thereby lowering the amount of oxygen the baby receives. This oxygen is desperately and constantly needed by the baby for normal growth and development.
Unfortunately for some, pregnancy can exacerbate asthma symptoms. According to the American Academy of Asthma, Allergy and Immunology (AAAAI), asthma symptoms worsen in about 35 percent of pregnant women.
However, not all pregnant women with asthma see more symptoms. In about 28 percet of women, their asthma actually improves. The remaining 33 percent see no difference in their asthma condition during pregnancy.
The late second trimester and early third trimester seems to be the worst time for asthma symptoms in pregnant women, with the last four weeks of pregnancy being the time women have the least amount of symptoms. Thankfully, asthma symptoms are rare during labor and delivery for women who have generally well-controlled asthma.
Women who have asthma can have perfectly normal pregnancies and child births. However, they may need to take extra precautions when being around things that trigger their asthma and may need medication to help control their symptoms. But with the help of medical professionals, there is no reason women who have asthma (or their unborn babies) have to suffer with unwanted symptoms during pregnancy.
Sources:
Asthma.com. Web. 12 December 2011. "Main Causes of Asthma." http://www.asthma.com/learn/main-causes-of-asthma.html
American Academy of Asthma, Allergy and Immunology. Web. 12 December 2011. "Conditions and Treatments: Asthma, Allergies, and Pregnancy". http://www.aaaai.org/conditions-and-treatments/library/asthma-library/asthma,-allergies-and-pregnancy.aspx
Asthma and Allergy Foundation of America. Web. 12 December 2011. "Asthma and Allergies: Facts and Figures". http://www.aafa.org/display.cfm?id=8&sub=42
Reviewed December 13, 2011
by Michele Blacksberg RN
Edited by Jody Smith