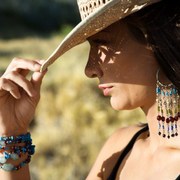 iStockphoto/Thinkstock
Skin appearance is a concern many of us have. When we see other women who are our same age, it is common to wonder why their skin looks younger or older than ours does.
Can better looking skin come from that special skin cream they claim to have purchased? Or are there other factors that determine how our skin ages?
According to SkinCarePhysicians.com, there are two distinct types of aging. They are intrinsic and extrinsic.
Intrinsic aging is from inherited causes, so it is from our genetic makeup. Extrinsic aging is caused by exposure to environmental elements such as sun exposure or smoking.
We have little control over intrinsic aging. It is through this type of aging that the properties of collagen, which provides the skin's structure and elastin, and which allows the skin to retighten after movement, are determined.
How often our skin sloughs off old skin cells and produces new ones is also part of intrinsic aging.
People who are fair complected and blue eyed may also appear to age faster than those with darker complexions and brown eyes.
Intrinsic aging is evidenced by appearance of wrinkles, thinning of the skin, loss of fat and fullness to the cheeks and, of course, the graying of our hair. The amount of oil our skin produces goes down as we age, especially after menopause, so skin becomes drier and may become itchy.
Small changes in our skin begin as early as our 20s but may not be noticeable until we are much older.
Extrinsic variables are those environmental factors we have control over that contribute to skin aging such as sun exposure, facial expressions, smoking and good nutrition.
Sun exposure contributes to what is termed "photoaging". Ninety per cent of signs of aging of the skin are thought by some to be due to sun damage and not to the aging process itself, claimed Dr. Marios Kyriazis who is an expert on the biology of aging reported in the Dailymail.com.
Skin can become leathery from excess exposure, age spots develop, increased freckles and spider veins appear. The fairer a person's complexion is, or the more sun exposure a person has had, the more prominent these changes will be.
Elastosis or solar elastosis is the term used for that "weather-beaten appearance" that appears in the skin of who have spent excessive amounts of time in the sun.
Repeated exposure to the sun over years also breaks down collagen and reduces our skin's ability to repair itself. Deep wrinkles and AK (actinic keratosis), which are precancerous lesions, develop more often in those who live in sun-intense areas such as Florida or Arizona.
Facial expressions can contribute to skin aging. Frequent wrinkling of the forehead or tension in the mouth can cause deep lines to form, especially as elastin production decreases. Our skin is not able to bounce back to smooth those creases.
Smoking can cause aging of the skin both because of the repetitive action of the mouth and from the biochemical changes that occur in our bodies from the cigarettes themselves.
Poor nutrition and not drinking enough fluid prevent the body from adequately rebuilding skin cells.
Prevention:
To reduce the effects of environmental causes of aging, protect your skin from the sun by wearing hats and protective clothing and use a sunscreen with an SPF over 30. Try to eat a healthy diet, drink enough water and avoid smoking.
When it comes to facial creams, it is important to use a daily moisturizer but don't go crazy trying various age-reversing skin creams. While there are products that claim to reverse the signs of aging, not all scientists are convinced that skin can absorb these added nutrients.
Sources:
Causes of Aging Skin. AgingSkinNet. American Academy of Dermatology. Retrieved June 14, 2012.
http://www.skincarephysicians.com/agingskinnet/basicfacts.html
Aging changes in skin. MedlinePlus. Retrieved June 14, 2012.
http://www.nlm.nih.gov/medlineplus/ency/article/004014.htm
How skin ages - and how to stop it. MailOnline.com. Retrieved June 14, 2012.
http://www.dailymail.co.uk/health/article-70993/How-skin-ages--stop-it.html
Michele is an R.N. freelance writer with a special interest in woman's healthcare and quality of care issues. Other articles by Michele are at www.helium.com/users/487540/show_articles/
Edited by Jody Smith
Tags: