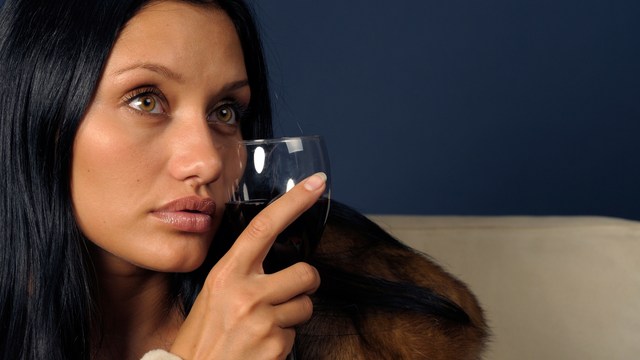 Dmitriy Raykin/PhotoSpin
"Motherhood is hard. If it were easy, fathers would do it"- Dorothy Zbornak, a character from the Golden Girls once said. She's right, not that fatherhood is an easy thing either.
But mothers are the parents who carry the babies, are usually the primary caregivers, and often work full-time too. And for women without the means to have household or family help, every day is a 16-hour day, something that can take its toll.
Another thing that women face is great societal pressure to assume some kind of perfectionist role. Women should work, look good, look slim, have kids, make good money. They should be the best wives, partners, girlfriends, friends, aunts, daughters and moms they can be.
If you are apt to try to reach those standards, failure is an option -- a valid option -- because perfection is not attainable. We're human, not machines. And it's from both our successes and failures that we emerge as valuable and interesting women.
But for some mothers, the pressures can be too much, and rather than seek comfort in spouses, friends, exercise or rest (which they may or may not have access to) they self-medicate with drugs or alcohol.
Caron Treatment Centers, a non-profit that provides rehabilitation services to those with drug or alcohol dependency, found that there are several key reasons why mothers engage in substance abuse. They are boredom, pressure from family and friends, trauma, stress, or being in a bad relationship.
Mothers are less inclined to seek help (even when they know they need it) for fear of leaving their children and those consequences. However, many said that they would be more inclined to go to rehab if their families were behind them.
Additionally, women felt that as long as their lives looked good, or even "perfect" from the outside, they could cope, despite personal suffering on the inside.
Mothers are bombarded with tips on how to be a great mom, cook, career woman and spouse. These stressors are what most women say trigger a need to abuse drugs or alcohol. And from what's been seen of the women who went through rehabilitation at Caron Treatment Centers, most of these women are not ne'er-do-wells or mindless women who don't care about their families and careers.
In fact, according to Caron:
"- 46% of respondents are currently between 46 and 55 with a household income over $100,000
- 78% were married when they went to treatment; 74% had two or more children
- 88% of respondents abused alcohol in their own homes (as opposed to a bar)
- More than 44% abused prescription drugs (23% benzodiazepines, 21% opiates)
- More than 70% did not use alcohol or drugs while pregnant
- 60% of respondents drove under the influence every week prior to recovery
- Over 30% of respondents were reluctant to seek treatment because they were worried about leaving their families; however, over 55% sought treatment at the request of their families. "
http://www.caron.org/leading-nonprofit-reveals-top-five-reasons-why-more...
Getting help for addictions, learning self-acceptance and minimizing social pressure from their lives can really help mothers seek comfort from friends and family, rather than chemicals. Realistic goals and expectations are key, without women taking unrealistic hits from all aspects of life about achieving SuperMom status.
One woman who got sober through Caron said that while she hiding behind a veil of perfection, "I was slowly dying and I'm certain that tragedy would have ensued if I'd continued on that path."
As we read above, depression or anxiety is often at the root of mothers turning to addictive substances to self-medicate.
Children benefit greatly when moms have their depression treated. A child is deeply affected by a mom's depression and in the EmpowHER article

The mood of a mother is a key factor in how a child feels and how a child's mind is shaped. Children with no depression before a mother was successfully treated, remained depression-free themselves, but 17% of children with no depression whose mothers were not successfully treated were themselves diagnosed with depression within three months.

As the women polled in the Caron survey will attest to, family support is so important in getting moms in for treatment, and children are the primary concern for moms who need help. It was found that 83 percent of those moms successfully treated said their emotional relationships with their children "greatly improved".

Most mothers are truly the heart of the home, so a healthy, happy and sober mom can be the foundation for a family that grows up in a positive environment with children that become well-rounded and confident adults.

Tell Us
Are you a mother who has faced addiction? How did (or do) you cope? Did you grow up with an addicted or depressed mom?

Sources:

Caron.org. News and Press. "Leading Nonprofit Reveals Top Five Reasons Why More Moms Turn to Alcohol and Drugs". Web. Retrieved May 10th, 2013.
http://www.caron.org/leading-nonprofit-reveals-top-five-reasons-why-more...

EmpowHER.com. Mental Health. "Children Benefit When Mothers' Depression Is Successfully Treated" by Urmila Parlikar, MS. Web. Retrieved May 12th 2013.
https://www.empowher.com/media/reference/children-benefit-when-mothers-d...

Reviewed May 23, 2013
by Michele Blacksberg RN
Edited by Jody Smith