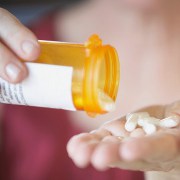 Photo: Getty Images
I wrote an EmpowHER article about Florida's so-called pill mills several months ago. At least one thousand pain-management clinics are offering pain medication or antidepressants to anyone who can provide the cash on the spot. In many cases, a prescription is not required. Some "patients" receive a brief check-up, others simply hand over money for large amounts of narcotics, from Vicodin to Oxycontin.
Some are consumed by the buyer, many are sold. License plates outside these clinics come from states up to a thousand miles away, with the drivers readily admitting that the trip is worth it, for the amount of pills they can score without a prescription. Laws were being prepared -- even rushed -- in order to deal with this crisis as soon as possible.
More on the article can be read here: https://www.empowher.com/addictions/content/pill-mills-new-drug-dealers-block
Some recent and good news about these illegal drug dispensing clinics is that laws were quickly passed and have already resulted in approximately 400 clinic being shut down. The reason the shut-downs happened so quickly was the strong law enforced as of July of this year, banning the dispensing of pain medication or narcotics from doctor's offices or clinics.
This law saw a whopping 97 percent fall in Oxycontin sales when comparing sales from the first half of 2010 to one year later. 32 million prescriptions of Oxycontin were sold in the first half of 2010. This would be, on average, 64 million sales per year. The population of Florida is 18.5 million. It's little wonder that roads to Florida have been nicknamed the "Oxycontin Express".
Two brothers who operated several pill mills in Florida have been arrested for various offenses and one has already pleaded guilty to second degree murder, due to the 56 deaths that have occurred due to pain medication they dispensed.
One doctor has also been arrested for murder, due to a patient of his who overdosed within a day of being given over 200 pills by the doctor. And because the street price of one Oxycontin pill has doubled in the last year, people aren't making the drive to Florida as much.
Another positive outcome is that more people are seeking rehabilitation because they cannot afford the pills anymore. Perhaps not the greatest motivation to seek help, but these price hikes will certainly help some.
Employees of any office or clinic that prescribes narcotics must now have a background check. Pharmacies are also being looked at far more carefully and from October, they will have to report their sales within seven days of dispensation so that anyone who shows up with a prescription for narcotics can be tracked.
If they have a history of bouncing from one pharmacy to another, it will show up in the computer system. Pharmacies in Florida are growing exponentially, with that state alone accounting for half of the amount of pharmacies looking to be licensed in the entire United States.
Obviously the problem of Florida's pill mills isn't over. Clinics are shutting down in target zones and relocating to places that have yet to be pinpointed by law enforcement as well-known drug areas. Deaths due to narcotic overdoses remain at about seven per day. The problem in Florida is still huge, but with these new laws finally in place, the state could see a vast reduction in senseless narcotic use and abuse.
Sources:
Florida Shutting Pill Mill Clinics. New York Times. Web. 4 Sept. 2011. http://www.nytimes.com/2011/09/01/us/01drugs.html?pagewanted=1&_r=1&ref=health
Florida's Drug Overdose Epidemic. The Partnership at Drugfree.org. with NOPE. Web. 4 Sept. 20011.
http://www.drugfree.org/join-together/addiction/florida%e2%80%99s-drug-overdose-epidemic?utm_source=Join+Together+Daily&utm_campaign=b664256fb1-JT+Daily+News%3A+Florida%27s+Drug+Overdose+Epidemic&utm_medium=email
General Information on Drug Abuse in Florida. Florida's Narcotic Overdose and Prevention Program (NOPE). Web. 4 Sept. 2011.
http://www.nopetaskforce.org
Edited by Jody Smith
Tags: